Religion in Thailand
Buddhism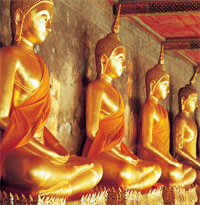 About 95% of the Thai population are Buddhist, which is a religion based on the teachings of Buddha, "the enlightened".
Siddhartha Gautama, the Lord Buddha, was born in 623 B.C. in Lumbini Nepal, and subjected himself to many years of severe austerities to arrive at a vision of the world which is the basis of Buddhism. Gautama Buddha spoke of four noble truths :
Existence is suffering (The truth of suffering).
Suffering is caused by desire (The truth of the cause of suffering).
Eliminate the cause of suffering and the suffering will cease to arise (The truth of cessation of suffering).
The eight fold path (or middle way) is the way to eliminate desire (The truth of the path).
The main theme of Buddhist belief is that of karma, the evaluation of all life's events and, after ones death, the rebirth of that karma in a new existence. In this way everyone has it in his own hands to determine his next life, for better or worse. The Thai proverb do good and receive good, do evil and receive evil sums up this concept well.
Buddhism is ever present in Thai life from the myriad Buddha images to the saffron-robed monks and many wat (temples) at which local people worship. As a visitor to Thailand you are welcome to visit the wat but please remember to dress respectfully, no shorts or vests. Remove your shoes before entering any temple building, and never touch the head of a Buddha image.
Other Religions
About 4% of the population, mainly living in the south of Thailand, are Muslim. The remaining 1% are Confucians, Taoists, Christians, and Hindus. Thai people are very tolerant of other faiths and treat all religions with respect.