Food & Drink in Thailand
Thailand's cuisine is regarded by many people as one of the best in the world. And, if variety is the spice of life, you can literally have a different meal every day of the year.
Almost all Thai food is cooked with fresh ingredients, including vegetables, poultry, pork, fish and some beef. Lime juice, lemon grass and fresh coriander give the food its characteristic tang, while liberal helpings of fresh chillies are used to add some fire to many dishes. Other common seasonings include black pepper, ginger, tamarind, and coconut milk which is often added to curries.
Beers, wines and spirits are readily available but the imported items can be a little expensive. A big favourite among Thai people is rice whisky of which Mehkong is the leading brand. It has a sharp, sweet taste similar to rum. Several brands of beer are produced in Thailand, most popular is the local Singha beer.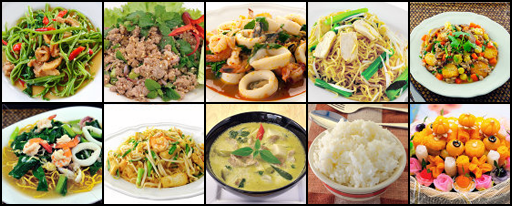 Some of the more popular dishes
Gaeng massaman
Rich spicy curry with beef or chicken.
Gaeng kari gai
Mild yellow curry with chicken.
Gaeng khiaw waan
Sweet green curry with coconut milk and shrimp, chicken, or beef.
Tom yam kung
Spicy soup with lime juice, lemon grass, mushroom and shrimp.
Tom khaa gai
Soup with galangal root, chicken feet and coconut milk.
Gaeng jeud
Chilly free soup with vegetables and minced pork.
Khao phat
Fried rice with shrimp, beef, pork or chicken.
Khao man gai
Sliced boiled chicken over marinated rice.
Khao na phet
Roast duck over rice.
Kuay-tiaw nam
Soup with rice noodles, meat and vegetables.
Laat naa
Rice noodles, meat and vegetables in a thick gravy.
Phad siyu
Fried rice noodles with meat and vegetables

Sang kha-yaa maphraow

Coconut custard.
Kluay khaek
Fried banana.
Mamuang khao niaw
Ripe mango with sticky rice in coconut cream.