Mae Sot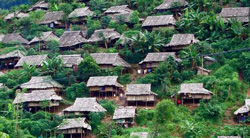 Despite its remote location and relatively small size, Mae Sot is among the most culturally diverse cities in Thailand. Walking down the streets of the town, you'll see a fascinating ethnic mixture of Burmese men in their sarongs, Hmong and Karen women in traditional hill-tribe dress, bearded Muslims, Thai army rangers and foreign NGO workers.
Burmese and Karen are spoken as much as Thai, shop signs along the streets are in Thai, Burmese and Chinese, and most of the temple architecture is Burmese. Mae Sot has also become the most important jade and gem centre along the border, with much of the trade controlled by Chinese and Muslim immigrants from Myanmar.
Accommodation
The vast majority of Mae Sot accommodation are found in the guesthouses along the two adjoining roads of Pasatwitee and Intharakiri.Not known as a great holiday destination, rooms are available all year round. Catering more for Thai business men are a few middle range hotels but the luxury end of the market has yet to arrive.
Attractions/Things to do
Gibbon Sanctuary
While many other animals reside here, the gibbon sanctuary houses dozens of rescued gibbons, of the great ape group, who are often adopted as pets and then neglected by their owners when they reach adulthood. These fascinating creatures speak to you as you walk among their pens and hand feed them ripe fruit.
Town Markets
The vibrant Burmese Market in the centre of town represents an amazing cultural mix. There are Indo-Burmese textiles, food and teak; as well as Karen, Mon, Hmong and other Burmese minority shops of all kinds. Turtles, eels and frogs all available at food stalls (mostly these are live) while pork, chicken, beef and lamb are also sold. There are numerous gem and jade shops. A small indoor market is held mornings and evenings at Baan Nua, on the way towards Mae Sot villas, with fresh vegetables, meat and cooked take-away meals on sale.
Rim Moei Border Market
Well worth a visit for a whole range of locally made goods together with Chinese & Burmese imports, including counterfeit Viagra, 'knocked off' cigarettes, whisky and designer goods, plus gems and plants.
Waterfalls
Phra Charoen Waterfall: Accessible by car or motorbike, there is a well-beaten trail alongside its 97 steps, providing a beautiful stroll through the jungle. Bring a picnic with you and be prepared to get wet. The ascent up the 97 steps is often closed during rainy season.
Tararak Waterfall: Tararak is part of the Ti Lor Su waterfall group and like its cousin Phra Charoen contains a nice walking trail and plenty of places to picnic.