Songkhla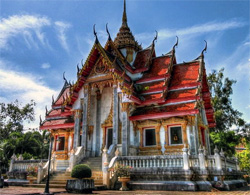 Songkhla is the provincial capital of Songkhla province and is located on the Malay Peninsula on the coast of the Gulf of Thailand. Although not known as a major tourist attraction, it does have enough charm and attractions to make it worth a visit especially for tourists staying in nearby Hat Yai who fancy a change to a slower way of life. Being a coastal town fishing is an important part of the local economy. Over the last few decades, Songkhla has developed rapidly and is now a unique attraction worth visiting in its own right. Blessed with natural resources such as pleasant beaches, enchanting waterfalls, and a tranquil lake, the old section of Songkhla still maintains its unique identity of ancient and historical flavours through local architecture and cuisine.
Accommodation
Due to the steady increase of visitors to Songkhla the city now boasts a variety of hotels ranging from 5 star luxury down two 2 and 3 star budget accommodation. Although still relatively few in number, more will inevitably be built. For those wishing to experience a more cultural approach, homestay holidays have caught on rather quickly. Here you stay with a Thai family in their home and live as part of the family. Many of these types of holidays are located on the islands off Songkhla.
Attractions/Things to Do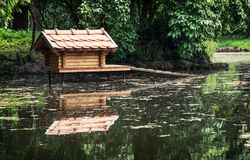 Thale Noi Water Park
One of the most interesting nature parks in Thailand and well worth a visit. From January until the end of March the lotus blossom is fantastic. A trip on the lake with a small boat takes about 2 hours and you should start early in the morning, as the lotus flowers will close in the afternoon. There are a lot of different waterbirds to be seen along with water buffalos who spend their day slowly munching their way through the plants and grass.
Ko Yo Island
Situated in the beautiful Sangkhoi Lake this is the ultimate for fresh seafood lovers. Dine in one of the many shack type restaurants which are on stilts in the lake accessed by rickety bamboo bridges. There are lots of prawn farms nearby which have fishing nets dangling in the water. Every now and then they winch up the nets to catch the prawns. One drawback however, getting around can be difficult without a car or motorcycle as transport is scarce.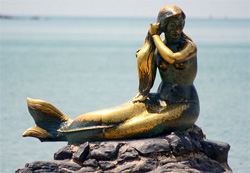 Tang Kuan Hill
This hill top temple is the highest point in Sangkhia offering a beautiful panoramic 360' view of the area. A camera is a must for this visit. There are two ways to the top – walk up (remember it can be very hot) or take the reasonably priced funicular railway. The hill is also known for its large population of monkeys who are not shy about coming forward!
The Mermaid Statue
The Mermaid Statue can be found on Samila Beach. It is the iconic symbol of Sangkhla – a bit like the Little Mermaid in Copenhagen. Legend has it that if you touch the breast of the topless statue you will one day come back to Sangkhia. The place is popular with locals and tourists alike and at busy times you will have to wait your turn for the obligatory photograph. The beach itself is nothing special but it does have shady trees which can be a blessing. There is an array of food stall/restaurants offering inexpensive local fare scattered along the beach.