Hat Yai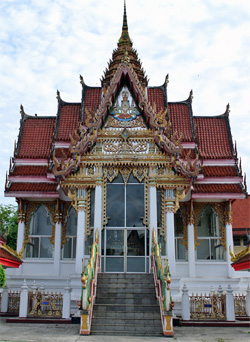 Located only 50 kilometers from Pedang Besar on the Malaysian border, Had Yai is the commercial hub of Southern Thailand. Essentially just a major city and used by tourists as a gateway to Malaysia and the rest of Southeast Asia. The city does have a few places of interest but it cannot really be called a tourist destination in its own right. However it is a good place for shoppers.
As with any big city there are the large malls and chain department stores but Had Yai does a roaring trade in technologies such as Playstations and other computer gadgetry, as these types of goods are sold tax free due to the citys border location. This attracts many weekend visitors from Malaysia and you will hear as much Malay spoken as the local Thai dialect. Had Yai is not a bad place to break a journey for a day or so, but not really much else.
Accommodation
Being a large city there are many types of accommodation. However not being a huge tourist resort the hotels are more practical than luxury. There are upmarket hotels but they are few in number and the choice limited. As Hat Yai is mainly used as a stopover for travelers heading further afield, hotels tend to be situated near the bus and train stations. The city centre has dozens of business like hotels and cheaper hostels catering for backpackers.
Attractions/Things To Do
Phra Maha Chedi
This is the world's first chedi built entirely of stainless steel and was completed in only 160 days. Located 4 kilometers out of town, behind the Prince of Songkla University, in a quiet and peaceful setting, it is ideal for meditation and reflection. Two ornate staircases lead up to the top of the chedi and from there it is possible to view the entire region. The building is wonderfully cool and is probably best seen in the evening when the whole structure is lit up. It really is an oasis of tranquility.
Khong Hae Floating Market
Located on the Klonghae River and open on Friday, Saturday and Sunday the floating market is probably the number one attraction in Had Yai .Although it does sell a variety of items, it is mainly a food market with no shortage of choice and variety of local produce to sample and enjoy. Even before you get to the market, you pass numerous street food stalls before entering the market by crossing a bridge. Food and drinks are served on clay plates and mugs which make for good souvenirs. Being a true Thai Market remember to haggle.
Namtok Ton Nga Waterfall
Located 25 kilometers outside the city and in the Ton Nga Chang Wildlife Sanctuary is the magnificent 7 tier Namtok Ton Nga waterfall. It is possible to reach the waterfall by car but parking is a perennial problem. It is easier to be dropped off by tuk tuk. The trekking trail up the waterfall is surrounded by impressive scenic views with the third tier being the most spectacular. The walk up is long and only the truly adventurous and fittest make it all the way to the top. Remember to wear sensible walking shoes and prepared to get wet
Hat Yai Municipal Park
The best way to appreciate the park's natural beauty is by bicycle or on foot. Located 4 kilometers outside of Hat Yai, the park boasts a gold standing Buddha at the top of a mountain. Works of art made entirely of wire depicting dragons, aliens, horses and various other animals and illuminated in the evening make an interesting photo shoot. There is a golf course alongside a very picturesque lake where it is possible to feed giant catfish and carp. Food stalls are many and cheap. Pedal boats are available for hire. A delightful island in the lake is accessible by a hanging bridge. The area offers plenty of attractive walks. Most people wishing to see the standing Buddha take advantage of a cable car on the way up and choose to walk back down and enjoy the sights. Another attraction is the Hindu Brama temple with dozens of gold elephant statues.