Surin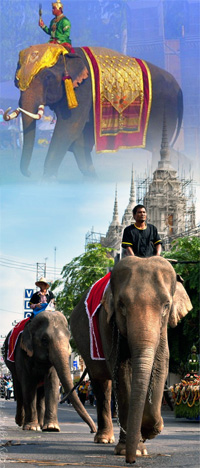 Surin is known for one thing – the Elephant Festival, apart from that there is little to attract visitors. The city is an ethnic mix of Khmer and Mon. You will hear as much Khmer spoken as Thai in modern Surin. It is a decent but fairly ordinary Thai city. It does have a fairly good market and the surrounding area is dotted with Khmer ruins. For those wanting to party the town does a lively nightlife strip.
Accommodation
Surin, apart from during the Elephant Festival, is not a tourist destination and as such accommodation is easy to find. The choice on offer is not great, mainly guesthouses and cheap hotels. There is little on offer for the luxury end of the market. However during the Elephant Festival it is a totally different situation. The Festival is extremely popular with both Thais and tourists and for ten days Surin almost bursts at the seams. Without advance booking you will be hard pushed to find accommodation of any type. Attractions/Things to do
Attractions/Things to Do
Elephant Festival
This is an annual event held in November and Surins main claim to fame. The festival runs over a ten day period however the popular events are held during the first weekend at the See Na Rong provincial stadium. For two days the elephants perform tricks, run races and even play football. The climax of the festival is the huge battle representing what warfare was like before tanks made elephants redundant. Known as the 'Round Up' over 100 elephants and hundreds of foot soldiers, all in traditional costume, reenact battles from Thailand's past.
Ban Tha Sawang Silk Weaving Village
Set in a delightful village surrounded by trees, rice farms and flowers Ban Tha is located just a few kilometers outside the town of Surin. Watch as the whole process, from silk worm to finished product, is made, woven and dyed. There are plenty of silks of every design and colour on sale at reasonable prices.
Surin National Museum
This modern purpose built museum is not on many travelers itinerary which is a shame as it does have a lot to offer. Open from Wednesday to Sunday, with free entrance, exhibits include such subjects as rice and early village settlements to elephants and the development of local cultures. Some of the ceramics, clay pottery and sculptured heads are amazing considering they are thousands of years old. The displays are well thought out and spacious. All information is in Thai and English.
Prasat Muang Tam
Another hidden gem is this renovated Hindu religious monument. The site consists of a large square split into courtyards with ponds, and surrounded by a wall. The structures and buildings that still remain are impressive, especially the ornate lintels with their delicate carvings. Because it is a minor site it is never crowded and so can be enjoyed in a peaceful environment.