Trat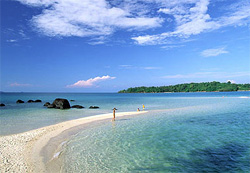 Trat Province lies between the Khao Ban That mountains on the border with Cambodia and the Gulf of Thailand. Known more for the islands off its coast the town of Trat is little more than a transport hub but it does have an interesting old quarter along with some decent markets. Fruit is the mainstay of the region with durian, mangosteen and rambutan grown in abundance. Easier access to the islands of Koh Chang, Koh Maak and Koh Kut means tourists no longer have to pass through the town, leaving a glut of guesthouses, frozen in time, offering good deals.
Today the town is used predominantly by merchants, backpackers, and visa –runners heading for the border crossing at Had Lek. Tickets for the popular Cambodian beach resort Sihanoukville can be bought at Trat Bus Station.
Accommodation
The majority of budget guesthouses are found in the old quarter streets of Rhak Muang and Thana Charoen, just to the south of the city centre. The guesthouses are much of a muchness with little to differentiate between them. Most offer a very reasonable room rate all year round. There are a small number of utilitarian hotels in the town centre near the hospital for those looking for larger Thai style hotels although the area lacks the charm of the old quarter.
Attractions/Things to Do
Wat Buppharam
Wat Buppharam dates back to the 1600's and it contains the oldest wooden wihaan in Thailand. The impressive temple has walls made of plaster and wood all cast in faded crimson and gold. Along with a reclining Bhudda, ancient chedis and Chinese wall murals the temple has managed to maintain a calm and respectful atmosphere due in part to the many monks and relatively few tourists. The Wat also has a small museum with various Buddha images, ceramics and other regional artefacts.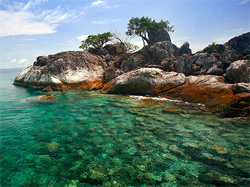 The Trat Coast Road
Between the mountains on the Cambodian border to the sea are several very pleasant beaches, waterfalls and fishing villages. Best explored by motorbike, the main road runs 90 kilometers from Trat Town to Had Lek. The beaches are clearly marked in English on the main road. Ban Chuen is typical of these unsung beaches with a few humble seafood restaurants resting on fine white sands leading down to wonderfully clean clear water.
Koh Chang Marine National Park
The islands in the National Park range from small islets barely large enough to offer anchorage to Koh Chang, Thailands third largest island .Stretching over 650 square kilometers the park contains over 50 islands. Due to their park status the islands have largely escaped the commercial developers and therein lies their charm, providing the ideal venue for sun, sea and sand in an unspoilt environment.