Getting to and Around Thailand
[ By Air ] [ By Train ] [ By Bus, Car & Songthaew ] [ Bangkok Public Transport ]
By Air: International Airports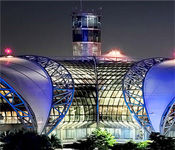 Thailand has a number of airports that service both domestic and international air traffic, as well as many more that only serve domestic flights.  Domestic carriers, such as Thai Airway and AirAsia, fly numerous domestic and international routes into and out of various Thai airports. Bangkok's Suvarnabhumi (BKK) is the premier Thai airport and serves as a hub for international transit passengers as well as a gateway to various Thai destinations. Phuket (HKT), Chiang Mai (CNX), Hat Yai (HDY), and Koh Samui (USM) are the other airports for international air travel into and out of Thailand. For domestic flights to travel to smaller provincial capitals one must generally fly out of Bangkok or one of the other international airports mentioned above. Suvarnabhumi Airport is Thailand's premier international air travel gateway and links all aspects of air travel and ground transport. It also supports the country's travel and tourism development, as befits its auspicious name, Suvarnabhumi, (Golden Land; pronounced sue-wanna-poom), which was bestowed upon it by His Majesty King Bhumibol Adulyadej.
The largest airline is Thai Airways which operates many domestic and international routes. Bangkok Airways is also a long established airline serviing both domestic and regional travel.
By Air:Domestic Air Travel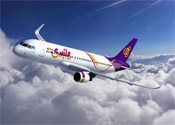 Low cost airlines have been operating in Thailand since the early 2000's. There are a number of Thai-based low cost airlines that fly to many of the smaller domestic cities within the Kingdom as well as many larger cities within the greater Southeast Asia Region. Over the past decade the situation has been in a state of considerable flux, with airlines being announced (many of which do not see the light of day), start operations, sustain- increase- decrease- suspend- or- cease operations. The carriers mentioned below are those which have survived in the cut price, budget airfare market of Thailand.
There are five major and smaller Thai-based airlines currently offering service:
Thai Air Asia - the sister-company to the Malaysia based Air Asia Corporation. Beginning from October 2012, all Air Asia flights operate from the old Bangkok airport, Don Mueang (DMK). Indeed, the relocation of all Air Asia operations (of Thai Air Asia and all other components of the Air Asia Group) has made DMK a major airport again
Nok Air - Owned by Thai Airways - the flag carrier of Thailand, Nok Air flights operate from the Don Mueang Airport regardless of destination. Incidentally, in the Thai language the word "Nok" means bird (as in the feathered variety), hence the name - Nok Air.
Orient Thai Airlines - Formerly operated domestic flights under the name of One-Two-Go Airlines until bad publicity surrounding a fatal crash in Phuket led to the airline being grounded and its eventual rebranding with the name of its parent Orient Thai. As of September 2013, this airline operates out of both Bangkok airports with limited destinations within Thailand.
City Airways is a new Thai LCC, currently serving destinations in Thailand and China (including Hong Kong). It is based at Don Mueang Airport.
Solar Air has kept a low profile for a number of years as an operator of small-aircraft flights for Nok Air. However it does have its own services, to Chumphon and sometimes to Hua Hin. It also operates from Don Mueang Airport
[ By Air ] [ By Train ] [ By Bus, Car & Songthaew ] [ Bangkok Public Transport ]