Accommodation in Thailand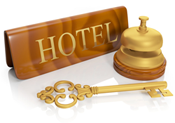 The vast majority of people who visit Thailand are on holiday and will stay at a tourist hotel. These come in all shapes and sizes with varying costs and standards. Prices are subject to supply and demand and will vary according to the time of your visit. Prices are at their highest during the tourist season, peaking over the Christmas and New Year period before starting to ease off in March. Other busy times will be during festivals such as Songkran or Loy Kratong. It is always advisable to book online and reserve your room during peak times. During the low season it is not difficult to find acceptable accommodation. As a rough guide expect to pay between 600 -2000 baht for a clean, en suite room with aircon, tv and mini bar Most hotels will have a swimming pool and restaurant. A lot of these hotels used to be the top end of the range until the multinational luxury hotel chains realised the potential of Thailands' tourist trade and moved in.
For those prepared to pay upwards of 3000 baht for a double room, all the well known upmarket hotel names are well represented particularly in Bangkok and other major tourist areas. Hotel chains such as Marriott, Sofitel and Sheraton offer everything you would expect from a high end operation. Thailand has in recent years spawned some home grown hotels offering equally high standard accommodation and western standards. The best known names are Centra, Dusit and Amari.
For the backpackers on limited funds there are a number of budget hotels found in most large towns and cities. For between 200 - 600 baht you will get a basic clean room sometimes en-suite and maybe with air-con but not always, There will be no restaurant or indeed any extra facilities. You get what you pay for - a functional room.
Anyone wanting to experience authentic local hospitality can opt for a homestay holiday. Usually found in the more rural areas, you live and eat with a Thai family staying in a spare room. This is a great way to sample real Thai life. Costs vary but be prepared to pay about 250 baht per person. The advantages of this system are you get to experience village activities such as rice planting, rubber tapping, silk weaving etc. whilst your money feeds back into the village and directly helps the local community. This type of holiday is increasing in popularity and it is now possible to book online through certain tour operators.
There are many other means of accommodation in Thailand. Bungalows, villas, dormitory halls, hostels and guesthouses These places tend to be private, individual operations with varying prices and hugely differing standards making it hard to put a ball park figure as regards to costs. Obviously a quality beach bungalow is more expensive than a guesthouse but apart from that there is no rule of thumb concerning price.