Kanchanaburi & River Kwai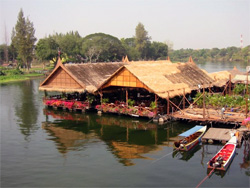 Kanchanaburi province is the third largest province in Thailand and borders Myanmar to the north. Kanchanaburi town is home to the infamous Bridge over the River Kwai immortalized in the David Lean movie of the same name. The province itself is blessed with lush vegetation along with stunning waterfalls, caves, mountains and national parks. However the overriding reason most visitors come to the region is its connection with the Death Railway.
Accommodation
Despite the fact that most visitors arrive for a one day visit, Kanchanaburi has an impressive variety of resorts and hotels with many along the banks of the River Kwai. Finding accommodation is usually quite easy unless it clashes with a commemorative occasion such as Remembrance Sunday or ANZAC Day.
Kanchanaburi & River Kwai - Attractions/Things to Do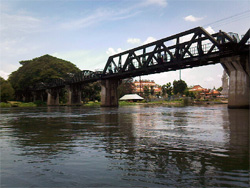 Bridge over the River Kwai
The bridge was constructed by the Japanese during the Second World War at a terrible cost to allied prisoners. The purpose of the railway was to transport cargo to India ahead of a planned invasion. Started in October 1942 the railway was built in a year. Three sections of the bridge by were destroyed by Allied bombing in 1944. The original parts of the bridge are displayed in the War Museum.
The present bridge has had two of its central spans rebuilt and is now a tourist attraction. The River Kwai Festival is held annually in November to commemorate the bombing of the bridge with the highlight being a spectacular light and sound show.
Hellfire Pass Museum
Opened in 1998 and funded by the Australian government, the Hellfire Pass Museum is the most visited attraction in Kanchanaburi. The museum has many relics and exhibits depicting the way of life endured by POW's during the construction of the Thai-Burma railway. Visitors are provided with an audio guide tour to Hellfire Pass and the walking trail below .The landscape reveals the profound difficulties of constructing the railway in this steep and rugged terrain. If taking the walking tour remember there are a lot of steps and the walk is long so do wear walking shoes and take lots of water.
Don-Rak War Cemetery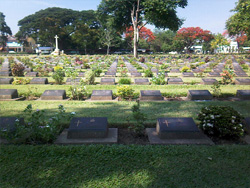 Located opposite the railway station the Kanchanaburi Cemetery contains the remains of 6,892 Australian, Dutch and British soldiers who died building the railway. The grounds are kept immaculately and admission is free. Reading the ages on the headstones is a sobering experience.
Chonk Kai War Cemetery
Smaller and quieter than Don-Rak cemetery, this well landscaped and beautifully kept cemetery contains the remains of 1,740 prisoners. It is on the original site of the prison base camp, hospital and church built by the prisoners themselves.
Jeath War Museum
Jeath is an acronym for Japan,England,Australia,Thailand and Holland, representing the countries who participated in action locally. Constructed to resemble a P.O.W.camp the museum is housed in Wat Chai Chumphon temple and is managed by a monk. The detention hut containing cramped bamboo bunks displays photographic, pictorial and other wartime memorabilia
Wat Koa Pun and Koa Pun Cave
The Kao Pun Wat and the cave are located about 5 km from town. Many boat tours stop here for a visit. Inside the cave are several Hindu and Buddha images. Behind the temple on the way to the river is a big Buddha with a fantastic view of the river valley offering up s spectacular photo opportunity