Cha Am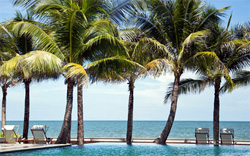 This well known beach resort town in is located on the Gulf of Thailand about 25km north of Hua Hin. It houses the only American university in Thailand, the Webster University, and has nearly 200 students from various countries. Cha Am is primarily a Thai resort with many visitors from Bangkok, but the more adventourous toursit will find the 'real Thailand' with lot of activities for children and none of the bar scene like found in Pattaya or Phuket.
Accommodation
Cha Am has plenty of hotels and guest houses from 5 star to simple rooms with fan or air-con. Weekends can be busy so it's a good idea to book in advance.
Attractions/Things to Do
Santorini Water Fantasy
The water park has numerous of slids, a lazy river, a big wave pool, and attractions for all ages. There are bungalows available for rent inside the park.
King Naresuan and Neranchararam Temple
King Naresuan the Great reigned from 1590 to 1605, during the Ayutthaya period. His statue can be seen in a small park overlooking the sea, at the north end of Cha Am. Neranchararam temple contins a six-armed Bouddha image, with the hands closing all channels of the body dipicting the cutting off of passion.
Saphan Hin
Saphan Hin (walking street) is a long pier stretching out over the sea that was completed in 2011. Go fishing, take a walk before the sunset or ride a bicycle.
Wat Cha Am
The temple located west of Cha Am on a small hill. The image of Buddha inside the temple was built in the Ayutthaya period. Follow the sign to Wat Cha Am Cave then climb the stairs to the cave.

The Beach at Cha Am
Khao Nang Phanthurat National Park
The park is a limestone mountain with many caves and a large garden at the entrance. Climb up the mountain to discover explore the caves and enjoy a view of the coast. There are steps all the way up, but you should wear some proper shoes.
Cha Am Forest Park
Located on Phetkasem road going south towards Hua Hin. It's not especially scenic but is a quiet place to relax and have a picnic, play football with the kids, ride a bicycle, or go for a jog. There is a small monkey island containing a few families of gibbons.