Mae Hong Son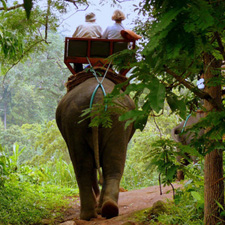 The province of Mae Hong Son is 75 percent forests and mountains; the deep-green peaks that loom over Mae Hong Son town account for its early morning thick mists. The combined population of Karen, Hmong, Lawa, Shan, Lisu and Lahu tribespeople outnumbers ethnic Thai. This adds intrigue to the region's worst-kept secret: Mae Hong Son lies smack in the middle of border-smuggling routes. If arriving by road be prepared for a hair raising but incredibly beautiful journey. Due to the climate December and January are considered the best months to visit.
Attractions/Things to do
Wat Chong Klang and Wat Chong Kham
Nong Chong Khan is a tranquil lake flanked on either side by two picturesque Burmses Shan temples that blend harmoniously into the genial ambience of the setting. Locals and tourists alike crowd to feed the goldfish and large Koi carp. Wat Chong Khan is renowned for its carved wooden figures depicting stories based on ancient Buddhist Jataka tales. The mirror like surface of the lake offers up a stunning reflection of the temple and is an unmissable photo opportunity.
Doi Kong Mu
Overlooking the town Doi Kong Mu is a 250 meter high hill that affords a panoramic vista of Mae Hong Son town and the surrounding countryside. Perched at the top of the hill is the Wat Phra Temple built in the 19th century and reflecting the Burmese Shan influence which is characteristic of the whole region. At sunrise the temple is bathed in a rosy pink light.
Trips to nearby Shan, Meo, and Karen villages can be arranged at most hotels. Mae Awnear near the Burmese border is probably the most popular.