Fishing in Thailand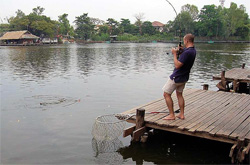 Thailand has many fishing areas. Sport fishing is a big industry and there are many options for both the novice and experienced fisherman.
Thailand has both freshwater and sea fishing. The waters surrounding the many islands near Phuket are famous for the large numbers of saltwater species and Thai freshwaters are renowned for their many world record catches.
Freshwater Fishing
Near Chiang Mai In the north of the country, there are several lakes with large catfish. If you are after carp then Bangkok and Pattaya offer some prime spots. Not far from Kanchanaburi is a large reservoir which is renowned for the huge snakehead fish. Further south Phuket has some lakes with giant tarpon and pacu
Sea Fishing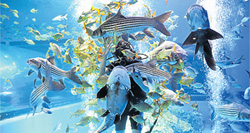 The best saltwater sport fishing is to be found around Phuket. The continental drop lies southwest of the island and is home to swordfish, marlin, giant trevally, tuna, and sailfish. Being warmer and less saline than the Andaman coast, the Gulf of Thailand offers a wide variety of fish. The popular islands of Koh Samui and Koh Phangan are good for eagle rays and barracuda .Off the coast of Koh Doa there is a wreck where African pompano and trevally can be caught.
Fishing is a year round sport in Thailand but obviously different fish are available at different times of the year. As a general rule of thumb, November to April are good months for tuna, giant trevally and sailfish. Freshwater fishing is possible year round
Conservation and Ecology
Thailand's fish stocks have been declining over recent years largely due to commercial fishing, although sport fishing also has an effect. The industry is growing very quickly but there is no management of the sport. Many tour operators ignore national park boundaries and bans on endangered species However, some fishing tour operators and parks are now encouraging catch and release practices to help maintain fish stocks.
Permits
Permits are not required in Thailand for rod fihing. However, there are regulations regarding fishing in certain locations and for some endangered species. When fishing at a fishing park or on a fishing tour, any permits needed should be arranged by the tour operator. Marine National Parks do not allow any fishing and it is illegal to fish for certain freshwater species such as the Siam Tiger fish, the Siamese Butterfly Catfish and the Malayan Bonytongue. With regard to sea fishing a full list of species that may not be caught is available from the Thai Department of Fisheries.