Khao Yai National Park - Welcome to the Jungle
Get off the beaten track! Experience the beautiful, less discovered Khao Yai National Park. Only 3 hours from Bangkok, uncover a whole new world in the middle of the jungle!
One of the definite highlights in Thailand has been an overnight trekking excursion in the jungle (in a UNESCO World Heritage Site nonetheless). Below, we've provided a simple overview so you can follow in our footsteps. For around $100 USD per person (including the adventure, equipment, food & accommodation), you will have the experience of a lifetime!
How Do I Get There?
Depending on where you're coming from, there are a number of transportation methods to Khao Yai National Park.
From Bangkok, you'll have several options:
Minivan: hourly from Victory Monument (around 160-180 baht, 3 hours).
Bus: half-hourly from Mo Chit station (around 180 baht, 3.5 hours).
Train: irregularly from Hua Lampong station, though this is the slowest and often most expensive method (prices vary, approx 4-5 hours).
From Ayutthaya, take the train to Pak Chong (between 50 400 baht, approx 2 hours).
From the North, there are plenty of bus & train options depending on your origin.
For train services, you may also want to confirm time table & prices at www.railway.co.th as prices vary drastically depending on the time/service you opt for, so do your research ahead of time to avoid any surprises.
You may also arrange a private car / taxi for the trip this is a much more expensive option.
Whatever direction you come from, expect a smooth transition to the campsite. Even though our train was delayed 2 hours, we were greeted at the Pak Chong train station without any hassles. From there, we were driven about 30 minutes to the entrance of Khao Yai National Park. We were seamlessly handed over to our guide, and away we went.
Why Do I Need to Go On a Tour?
You may be thinking, I've got this I've done plenty of hiking before so why should I bother paying for a guide for Khao Yai National Park? Below are our top 5 reasons it just makes sense:
These guys know their stuff! You will be led by a guide (or combination of) and a Park Ranger ours had over 20 years combined experience!
It is the jungle! It is also unpredictable! You need to be well equipped to handle any situation that may present itself, and you can trust in their expertise!
You won't get lost! There is not just a single entry and exit point. Sites and sounds along the way will lead you on different paths. Guides mark the path in non-obvious ways, but in ways they can easily identify.
You will get the most authentic experience! Not only will you get to explore the jungle, but you'll get additional insights into the Thai lifestyle. Open fire cooking, sporadic animal stalking and sleeping in a hammock under the stars just to name a few.
You will have more fun! Growing up in this region, this is the guides' / Ranger's backyard they know the lay of the land, how best to track the animals, and will share a wealth of knowledge with you about the region and jungle itself.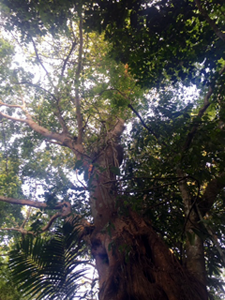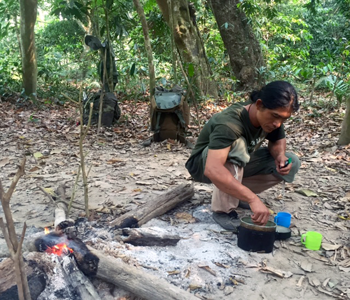 What Do You Mean By Trekking?
Upon being picked up by your guide, you will pack your gear (more on what is provided in the What Do I Need To Bring section). You'll be driven 15 minutes from the gate entrance to the viewpoint, and then a short distance past that, before heading into the jungle.
On the first day, you'll walk through the jungle. Among dry leaves. Over fallen logs. Across streams (it was exceptionally dry when we were there, so encountered minimal water). Through grasslands. Up and down hills. Pace yourself there is no rush. In total, expect to walk approximately 15 kms.
As evening draws near, you'll enjoy an easy trek through the grasslands on a night safari. Anticipate about 90 minutes round trip. The ground is mostly flat, with the only tricky bit being that it will be pitch black by the time you get home, but your guides have flashlights (and we'd also suggest a headlamp).
On the second day, you'll make your way out of the jungle. You'll start early to beat the heat. Head towards a viewpoint where you'll climb to take in the 360 degree view. Absolutely stunning! Then slow down and enjoy the relatively flat terrain as you continue making your way through the jungle and across the grasslands. Wind up and around until you reach the observation tower. Now you know you've almost made it! With around 20 kms clocked up this day, your legs will feel it, but your body will thank you for conditioning it.
You can now venture back to 'Coca Cola' as they call it, and relax! You have survived a night in the jungle (seriously, how cool is that!)
What Animals Will I See?
As you are becoming one with nature, it is obvious (but important to note), you are in the wild. We'll walk you through our experience, but of course everyone's experience will be different. After all, if you wanted a guarantee of what animals you'll see, we'd suggest going to the zoo. We personally looked at seeing any animals as a bonus, and lucky for us, we had a few bonuses (and you likely will too, but of course we can't promise anything).
At both the park entrance and initial viewpoint, we saw a number of Short-Tailed Macaques. They are better watched from a distance, as they are quite aggressive little monkeys always after food due to human conditioning.
Upon entering the trail, within the first 30 minutes, we were led to a group of Gibbons. High in the trees, we watched one swing from tree to tree, whilst another one just bummed around with this arms flailing in the air surprisingly, he was sleeping, haha.
As we continued on our hike, our guide would periodically stop to listen. Listen to the sounds around us. Listen for any animal noise. Listen for a branch breaking. Anything that would give us a view of an animal. At one point our guide yelled, Sun Bear, and requested we move back to stay out of harms way. This bear species, though only approximately 1 meter tall, is very territorial and protective of its babies. Not knowing if it had its young with it, we had to be extra pre-cautious. After being advised it was safe, we tracked the bear, following his steps, but he was too quick and escaped before we could take a closer look.
As evening drew near, we took part in the night safari. Over the hill, we saw a Guar. As we continued, we saw 3 more. And as we turned to head back to camp, we were surrounded by about 10 of them! These bison-like creatures have a keen sense of smell and hearing. Lucky for us, their vision is not as sharp. So whilst the Ranger shined the light across the ridge, we could see the near dozen sets of eyes staring back at us, but they could not see us. Being unpredictable animals, we quickly retreated and waited for the them to do the same. Once the coast was clear, we made our way back to the camp and celebrated with a shot of homemade Whisky. That night, we slept well!
In the morning, we awoke to the sound of a family of Gibbons. We watched in awe as they swung through the trees above us. Soon afterwards, we heard a loud 'whoosh' sound roar overhead and looked up to see two Great Hornbills flying. Amazing we really were in the jungle!
Amidst the jungle, of course you always want to see the classic Elephant. Whilst we heard several on our night safari and throughout the night, we were still keen to witness one. As we missed out seeing one the first day, we asked our guide if we were likely to see one as were walking through the grasslands on our second day and he said probably not as it would be too hot for them. Much to our surprise, soon after, he ushered us to the side of the path as we watched a solitary male elephant slowly cross 50 meters in front of us. It was breathtaking! The Asian Elephant is slightly smaller than its African cousin, but still an enormous being. With a diet over 150 kg / day, they require a lot of energy to sustain themselves. He was relaxed and calm, ears moving and tail swinging from side to side. Knowing there was no threat, we were able to just enjoy his presence until we saw him disappear into the neighbouring jungle.
In addition to the big animals in the jungle, we also saw beautiful dragonflies, stunning butterflies, spiders, porcupine spines and a million insects. Besides wildlife, we witnessed some amazing flora too. Coral mushrooms, 200 year old trees, and snaking vines just to name a few.
You also have a chance to see Sambar (part of the deer family), Dhole (fox-like animals), Black Bears, Pythons & maybe even Wild Boars (though we weren't lucky enough to see any of these on our trip).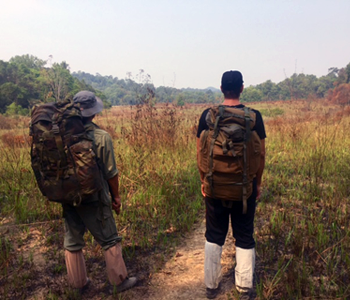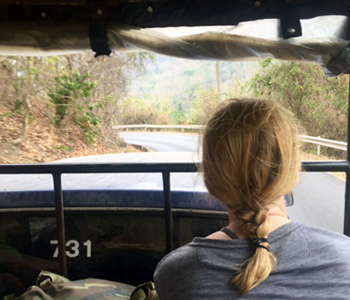 What About Food?
Let them know if you are a vegetarian or don't eat specific meats (ie. chicken, pork or fish) ahead of time. Also, if you're not keen on spicy food, do let them know. Thai's love their spice, but are happy to cater to any taste. They just need to know in advance so they can prep the food to bring into the jungle. Outside of that, all food is provided and it is delicious! Here's a look at what we had on offer:
Day 1
Lunch: Vegetable fried rice
Dinner: Chicken green curry with rice
Desert: Pineapple
Day 2
Breakfast: Pork porridge with rice & coffee
Snack: Pineapple
Lunch: Whilst a standard lunch option was included in the tour price, we decided to upgrade to a buffet after making it out of the jungle
What Do I Need To Bring?
Upon arrival, you will be provided with:
A backpack (don't worry, if you have a bag you don't want to bring trekking, they will happily store it for you)
Hammock with built-in mosquito net (aka your bed)
Rain cover for your hammock
Sleeping bag
Small tarp (for sitting)
Leech socks
Poncho
Bottled water
Bowl, cup & spoon
Pineapple (yes, each group must participate in carrying part of the meal)
We suggest bringing:
Hat
Sunglasses
Camera
Insect repellent
Long pants & short sleeve shirt (for trekking)
Shoes / boots
Change of clothes (for sleeping)
Sandals / flip flops
Headlamp
Toilet paper / tissue
Antibacterial gel
Toothbrush / paste
Water purifying tablets (make sure to get these well before you head to the area, as these are not sold locally)
Remember, pack light as you'll be walking for two half-days with your bag!
How Do I Book?
Ok, I like it, I love it, I'm there how do I reserve my spot?
Find a tour company - check their website and online reviews.
Give them a call followed by an email to secure your spot. Let them know: your name(s), how many people are in your party, when you'd like to go & which tour you'd like to do, how and when you will be arriving and any dietary restrictions / preferences.
Confirm the rate (as though they are published on their website, sometimes they have different offers available) and ensure you have money ready upon arrival.
After this trip, we can guarantee you'll be 'Simply Travelled'. After all, you can't get much simpler than back to the basics in the jungle!!
Page sponsored by Simply Travelled