Getting Around Thailand
[ By Air ] [ By Train ] [ By Bus, Car & Songthaew ] [ Bangkok Public Transport ]
By Train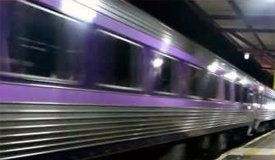 Thailand has an extensive railway network, reaching to the furthest extremities of the kingdom, and to the borders of Burma, Laos, Cambodia and Malaysia. 
The track is narrow (1 meter gauge) as in Malaysia and parts of India, and for most of its length, single-track only; this, together with the lack of bridges, makes travel by train in Thailand rather slow - it can take more than an hour just to get through the various road intersections and out of Bangkok!
However, Thailand's railways are comfortable and inexpensive, safer than travel by road, cheaper and more relaxed than travel by air. 
Using the rail network, you can travel pleasantly and economically from Chiang Mai in the north to Had Yai near the border with Malaysia, from the Laos border at Ubon Ratchathani and Nong Khai, via Bangkok, to Kanchanaburi and the Kwai Valley, for centuries the road to Burma. 
Online Booking for Train Tickets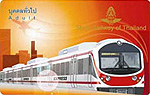 Starting from August 1, 2011, The State Railway of Thailand (SRT) will launch advance seat reservation service on the Internet or e-SRT. Reservations can be made up to 4 passengers at a time and 60 days in advance (before date of journey). Payment for the ticket can be made by Visa and Master cards. For further enquiries, please contact:
Advance Booking Office,
Bangkok Station (Hua Lampong), Tel. 0-2223-3762, 0-2224-7788, 0-2225-0300 Ext. 5100, Fax: 0-2225-6068, 0-2226-3656
What does Thai Rail Pass offer?
No.of trips/travelling distances: Unlimited
Ordinary train
Rapid trains
Express trains
Travel in third class, second class ,air-conditioned second class sleeping berth.
Validity : Duration of 20 days for 2nd and 3rd class
[ By Air ] [ By Train ] [ By Bus, Car & Songthaew ] [ Bangkok Public Transport ]