Surat Thani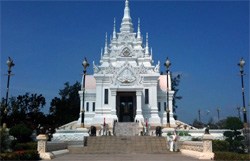 The literal Thai translation is 'City of Good People'. In reality Surat Thani is an unglamorous busy junction acting as the regional hub for transporting people and cargo all over Thailand. There is not a lot to see or do and few international travelers visit. The ones who do are mainly passing through en route to the popular tourist hotspots of Koh Tao, Koh Samui and Koh Pha Ngan. With the lack of tourism it does offer the opportunity to see more of a busy working southern city with local food, cheap prices and Thai chaos.
Accommodation
Suart Thani is not a popular destination and this is reflected in the available accommodation on offer. There is not a great selection of hotels but the situation is improving gradually. The cheaper guesthouses and rooms are generally found in the town with the higher end accommodation more on the outskirts.
Attractions/Things to Do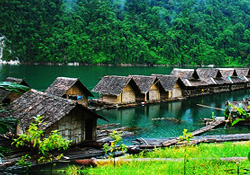 Khao Sok National Park
Covering this huge park (739 sq kilometers) is the oldest evergreen rainforest in the world. Magnificent limestone mountains, deep valleys, beautiful lakes, historic caves and wild animals all make for an unforgettable day. Available activities include jungle trekking,both on foot and elephant, truck safaris, swimming and canoeing.
City Pillar Shrine
The most prominent landmark in town, the beautifully designed City Pillar Shrine was built to house the city's ancestral spirits. Located in a white rock surfaced square full of elephant statues, and surrounded by a well maintained landscaped garden the shrine contains Buddha images, artifacts, ceremonial gongs and religious inscriptions
Surat Thani Night Market
Not huge, but very interesting, the market is located over three streets near the ocean. Only 150 meters or so long, it offers a variety of goods including clothes, shoes, cosmetics, bags etc. however the market is predominantly food led with chicken, fish, vegetables and fruit in abundance. Don't be alarmed to see stalls selling exotic local delicacies like fried grasshoppers and other insects.
Monkey School
Monkeys are trained to collect coconuts and do tricks in an animal friendly way with only rewards and no punishments. The school is also an educational centre. Accommodation homestay style is available plus good local Thai food.
RezEasy PMS
RezEasy cloud-based PMS offers real-time access from any desktop computer or tablet anytime, anywhere. Handles bookings, reservation updates, folios, housekeeping tasks, POS, reporting, channel management, online reservations, free booking links and more.
The Beach Restaurant
Our restaurant is located at the north end of Bang Saray beach within a few metres of the sea. You can enjoy beautiful sunsets overlooking the Gulf of Thailand with a view of Jomtien beach and Pattaya in the distance.