Scuba Diving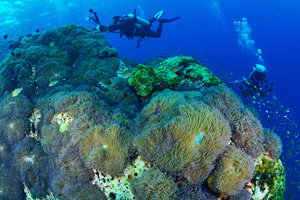 Thailand has some of the finest and most beautiful beaches and islands in the world, surrounded by crystal clear water and stunning coral, and that is the main reason why the number of divers coming to Thailand has escalated over the past decade or so.
Even though the best time of the year to dive in Thailand is between October and June, it is possible to dive virtually any day of the year. As Thailand is considered one of the safest destinations for diving and snorkeling in the world, it is perfect for first-timers wanting to try these pastimes out.
The sea visibility in some places is up to 30 m – unheard of in many parts of the world. One can enjoy splendid sights of underwater mountains, coral gardens, undersea rock formations, hard and soft coral, whale sharks, silver tip sharks, manta rays and even sunken battleships
Thailand is a great destination to learn to dive with the PADI Open Water Diver Course. If you are already PADI certified, look to take the PADI Enriched Air, PADI Deep Diver and PADI Drift Diver courses so you're prepared for diving the many pinnacles and walls across this destination. The PADI Wreck Diver course is a natural if you plan to dive any of Thailand's amazing wrecks. Thailand is also an excellent location to become a PADI Pro by taking the PADI Divemaster course or the PADI Open Water Scuba Instructor course.
Some of the Most Popular Dive Sites
Racha Noi & Racha Yai: Located near Phuket, these sites are full of beauty including mantas and whale sharks when in season, blue spotted lagoon rays, chevron barracuda and large schools of tuna and jacks.
Koh Dok Mai: This is a superb wall and drift dive, with hidden caves and crevices lurking in its limestone rock face. Glide by gardens of yellow tube corals and look for moray eels peeking out of the reef. The beauty of this site becomes illuminated with the sun's beam above, and its home, in season, to baby nurse sharks and whale sharks out in the big blue.
Richelieu Rock: About 200 km/120 miles north of Phuket, this horseshoe-shaped rock in the Andaman Sea might just be Thailand's most famous dive site. Look for big stuff – giant, lumbering whale sharks, barracuda tornadoes, and clouds of tropical fish. You'll also find shovelnose rays, seahorses, pipefish and cuttlefish. For underwater photographers, the hardest thing about diving this site is deciding whether to go wide angle or macro.
Bida Nok: Breathtaking both above and below the water, this site near Phi Phi Island crawls with sea snakes and hawksbill sea turtles. Moray eels, piles of wrasses and more leopard sharks keep the action humming, whilst soft corals, parrotfish, and giant clams remind you that Mother Nature's creativity knows no bounds.
Koh Haa: Accessible via Koh Lanta and Krabi, this collection of five big rocks has several dive sites that include swim-throughs, drop offs, and caverns. Marine life varies from little critters like the elusive ghost pipefish to the occasional hawksbill turtles. If you're lucky, you'll see manta rays gathering at a cleaning station.
Tarutao National Marine Park: This region near Koh Lipe comprises more than 30 islands, countless reefs, and access to vibrant seas full of exotic marine life.
RezEasy PMS
RezEasy cloud-based PMS offers real-time access from any desktop computer or tablet anytime, anywhere. Handles bookings, reservation updates, folios, housekeeping tasks, POS, reporting, channel management, online reservations, free booking links and more.
The Beach Restaurant
Our restaurant is located at the north end of Bang Saray beach within a few metres of the sea. You can enjoy beautiful sunsets overlooking the Gulf of Thailand with a view of Jomtien beach and Pattaya in the distance.