Bang Saray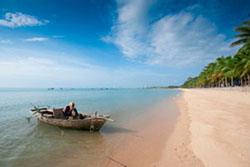 Located 160km south-east of Bangkok, on the Eastern Seaboard of the Gulf of Thailand just 20Km south of Pattaya the fishing village of Bang Saray is a delightful respite from the hustle and bustle of its' large neighbour. Bang Saray is a blend of traditional fishing village with touches of urbanization in the form of 7-Eleven and other convenience stores. But it still hasn't lost its charm or character.
Bang Saray is ideally located for those who enjoy a more relaxed atmosphere with its palm tree lined beach, seafood restaurants and temples. For those looking for sporting activities you will find world-class golf courses less than 30 minutes away, fishing, swimming, and diving. 70% of the long sandy beach is unspoilt and free from vendors, umbrellas or deck chairs. The portion closest to the town has an area with food stalls and shaded places to sit, but thankfully no 'hard sell' and no jet skis.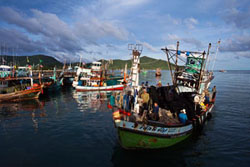 Attractions/Things to Do
Sai Kaew (Crystal Sand) Beach
South of Bang Saray the beach belongs to the Thai Navy but you can visit during daytime. Take your passport or ID.
Nong Nooch Tropical Garden
The 600 acres park is located off Sukhumvit road just a few minutes from Bang Saray and close to Amazone Waterpark. The entrance fee includes beautiful flower gardens, cultural dance show, elephant show. If you like plants this is a must see.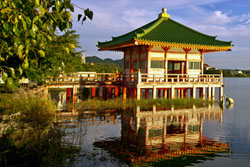 Amazone Waterpark
Opened in 2014 the park is located on Sukhumvit road a few minutes drive from Bang Saray. Good day out for families and very popular at weekends and bank holidays.
Silverlake Vineyard
15 minutes drive from Bang Saray. There is a restaurant serving Thai and italian food, a coffee shop and shop where you can buy wine and grape products.
Temples
Wat Yannasang Wararam is located north east of Bang Saray beside a small lake and park. Built in 1976, the temple is under direct protection of the Thai king. Khao Chi Chan (Buddha Mountain) is nearly 100m high Buddha shape is laser cut into the mountainside. The site can be visited when driving to silverlake or Wat Yannasang Wararam.
RezEasy PMS
RezEasy cloud-based PMS offers real-time access from any desktop computer or tablet anytime, anywhere. Handles bookings, reservation updates, folios, housekeeping tasks, POS, reporting, channel management, online reservations, free booking links and more.
The Beach Restaurant
Our restaurant is located at the north end of Bang Saray beach within a few metres of the sea. You can enjoy beautiful sunsets overlooking the Gulf of Thailand with a view of Jomtien beach and Pattaya in the distance.