Getting Around Thailand
[ By Air ] [ By Train ] [ By Bus, Car & Songthaew ] [ Bangkok Public Transport ]
By Bus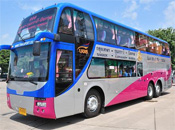 Thailand has an extensive bus network making it possible to get virtually anywhere you want in the country. The main routes in Thailand offer smooth roads, fast motorways and very little honking making it a rather mellow way to travel especially when compared to the countries neighbours. It is also a very economical and great way to view the Kingdom
Bus travel comes in varying classes and comfort levels. The BKS Company is run by the government and has some form of presence in every town. The buses are reliable and safe and a better option to those operating out of tourist centres. The choices on offer are the First-class, VIP and Super VIP. All will have air conditioning, which sometimes can be overdone so have an extra top close to hand. All will have a toilet, plenty of legroom and reclining seats. The Super VIP will have an attendant to bring water and snacks.
One step down is the Second Class. These buses are perfectly adequate for long distance travel and will have air con. However they tend to be slower with a lot more stops.
At the bottom end of the scale is the Ordinary bus. These fan cooled buses are mainly found in the more rural areas and stop at the wave of a hand. There are no reservations and are great for going from small town to small town.
Bookings for all buses, apart from the ordinary buses, can be made at any BKS station or office. At the larger bus stations several companies will run buses to the same popular destinations meaning it is possible to shop around for the best times, prices and classes.
Car Hire
Most of the well known international car firms are represented in Thailand. Companies such as Hertz, Avis, Alamo and Europcar can be found at airports, major cities and tourist resorts. Prices vary according to the type of car and length of hire The prices quoted here are just for guide purposes only.
Economy car – such as the Toyota Vios – 900 baht a day.
Compact car – such as the Honda Jazz – 900 baht a day
Intermediate – such as the Honda Civic – 1200 baht a day
Standard – such as the Toyota Camry – 1600 baht a day
SUV – such as the Toyota Fortuna - 1800 baht a day
Please remember this is just a rough guide. Rates for weekly or monthly hire will be lower special add ons such as baby seats, G.P.S. etc. will increase the rate. Where possible it is best to book ahead online to confirm prices and make sure the type of vehicle you require is available. Most of these prices only include third party insurance .One final point about driving in Thailand – it is not for the faint hearted. The standard of driving in Thailand can be haphazard to say the least
By Songthaew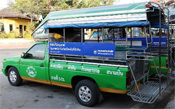 Songthaews are converted covered pick up trucks with two benches in the back running down the sides and a standing platform at the rear. A common sight in almost every urban area, these vehicles offer very good value for money and are a convenient way to get around. Songthaews follow set routes and instead of displaying their destinations they are colour coded to indicate their itinerary. There are no set bus stops, simply flag down the songthaew get in the back, and take a seat. If there are no seats you can stand on the platform at the back. At busy times they can get crowded and hanging on the back can appear a bit daunting at first. When you wish to disembark simply press the buzzer inside. When the songtheaw stops, walk to the driver's passenger side window and pay for the journey. Prices are set and very reasonable making this form of getting around very popular with the locals.
By Motorcycle
Available for hire in most tourist resorts and reasonably priced. Helmets are compulsory although the law is lax. Again remember the standard of driving in Thailand is poor and unfortunately some tourists do have spills and motorcycle fatalities in Thailand are not uncommon Make sure the hire fee covers both insurance and tax.
RezEasy Hotel Portal
RezEasy Portal lets you make deals directly with hotel, B&B, villa and apartment owners and take bookings for those properties on your website. Our partnership with Google means getting commission-free bookings directly in RezEasy from Google's Free Booking Links.
The Beach Restaurant
Our restaurant is located at the north end of Bang Saray beach within a few metres of the sea. You can enjoy beautiful sunsets overlooking the Gulf of Thailand with a view of Jomtien beach and Pattaya in the distance.
[ By Air ] [ By Train ] [ By Bus, Car & Songthaew ] [ Bangkok Public Transport ]