Bang Saen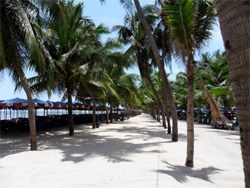 Located 85km south of Bangkok and just an hour drive from the Suvarnabhum airport Bang Sean is easy accessible and is quit unlike any other destination in Thailand. You will not find many tourists in this charming town, instead, during the weekends and holidays, the town transforms into a social Hotspot for Thai nationals.
The town also caters to foreign toursits and all of the restaurants in the Laem Thong shopping centre have menus in Thai and English as do most of the restaurants along the beach promonade.
Accommodation
There is good selection of accommodation in and around Bang Sean from 5 star to simple bed and breakfast. If you visit at a bank holiday and intend to stay overnight you should book in advance.
Attractions/Things to Do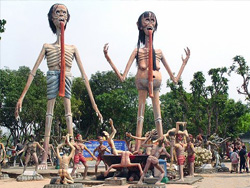 Aquarium
Located on the campus of Burapha University, the aquarium was built several years ago as an educational centre. It houses around 180 species of fish and includes a large glass walled tank containing some an impressive range of species. Open daily from 08:30 to 17:00 (8:30am to 5pm).
Wang Saen Suk (Temple of Hell)
Numerous cement and plaster statues depicting life in a Buddhist hell can be found throughout the temple gardens. The temple also contains a large diorama depicting Buddhist hell with two large figures named 'Nai Ngean' and 'Nang Thong' standing above the tortured souls of the garden. Near the far end of the temple there is a fish pond containing large catfish.
Beach
The beach stretches approximately 2.5km and has a wide road running the length of the beach. Between the beach and the road is a paved area where you can walk and eat at one of the many food stalls. In recent years the local authority has renovated the beach area and introduced regulations to control vendors and hawkers making Bang Saen a pleasant place to visit.
Golf
Within a radious of 30km you will find 8 golf clubs. The ones closest to Bang Sean are Bangpra Golf Club, Royal Lakeside Golf Club and Khao Kheow Country Club
Festival of Speed
See Classic cars, Superbikes, Rally races, Super cars, and much more. Racing takes place around the northern area of Bang Saen, right on the doorstep of hotels and guesthouses.
RezEasy PMS
RezEasy cloud-based PMS offers real-time access from any desktop computer or tablet anytime, anywhere. Handles bookings, reservation updates, folios, housekeeping tasks, POS, reporting, channel management, online reservations, free booking links and more.
The Beach Restaurant
Our restaurant is located at the north end of Bang Saray beach within a few metres of the sea. You can enjoy beautiful sunsets overlooking the Gulf of Thailand with a view of Jomtien beach and Pattaya in the distance.