Gold, Gemstones & Jewellery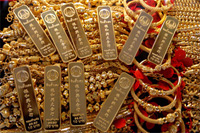 Thai gold is famous worldwide for its high purity of 96.5 percent (or 23 carat) and is measured in Baht and is not to be confused with the same word for Thailand's Currency.
Baht is a unit of weight measurement for Gold in Thailand where 1 Baht is equal to 15.244 grams in raw bullion form or 15.16 grams when it sold as jewellery. Thai Gold is also measured in Salung which is a smaller unit when compared with Baht, where 1 salung is a quarter baht (0.25 baht) or 3.81 grams.
A purity of 96.5 percent means in 1 Baht of Gold 96.5 percent of it is pure gold while the rest is made of metals such as silver.
Hence, in 1 Baht Gold there is normally 14.71 grams of pure gold which is a little less than half a troy ounce (0.473 ozt).
Every shop in Thailand follows the gold price set by the Thai Gold Traders Association. Thai Gold price does not fluctuate very often like the world gold market, because it only changes in multiples of 50 baht and Thai Gold shops are required to immediately change their display prices when the price is announced.
Thai Gold shops mostly have all the prices displayed in the unit of baht and of 23 carat purity. 99% pure gold is also sold in some shops in Thailand. Gold is sold in many forms such as jewellery, bars, biscuits, commemorative coins, Chinese coins, etc. The price of each form of gold may differ from the standard price for gold bullion bars because of other charges such as making charge, craftsmanship, purity, etc. Many gold shops also buy gold and their buying price is often 100 baht less than the selling price.
There are plenty of shops in Bangkok which sell gold; the most famous area for buying gold is Yaowarat in China Town which have over 130 gold shops lined up selling all kinds of gold. Always beware of scams on gold, there are plenty of scam artist in which they try to sell you fake gold or impure gold. Make sure to buy gold from reputable and trusted shops only. Thailand is regarded as one of the top five gem-cutting centres in the world. The kingdom also offers unique designs and quality at competitive prices, and it is little wonder that people flock here to buy.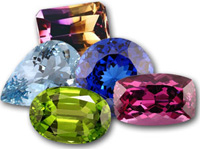 Here is some valuable advice and useful tips for tourists looking to buy gems and jewellery in Thailand.
To ensure quality, look for the logo of the Jewel Fest Club (JFC).
The Jewel Fest Club (JFC) is an established organisation founded in 1995 by the Tourism Authority of Thailand (TAT) and the Thai Gem and Jewellery Traders Association, who work alongside the Tourist Police and the Department of Export Promotion.
The objective of the club is to establish quality standards in the trade as well as promote ethical dealings that will ensure buyers can purchase the best quality gem and jewellery products at fair and reasonable prices.
Purchasing an item from any JFC member store is a guarantee that the items are certified for their authenticity and high quality as well as offer value-for-money. These trusted outlets also offer a money-back guarantee if buyers are not completely satisfied with the purchase.
[ Buying Advice, Where to Buy - Next Page ]
RezEasy PMS
RezEasy cloud-based PMS offers real-time access from any desktop computer or tablet anytime, anywhere. Handles bookings, reservation updates, folios, housekeeping tasks, POS, reporting, channel management, online reservations, free booking links and more.
The Beach Restaurant
Our restaurant is located at the north end of Bang Saray beach within a few metres of the sea. You can enjoy beautiful sunsets overlooking the Gulf of Thailand with a view of Jomtien beach and Pattaya in the distance.