Chiang Mai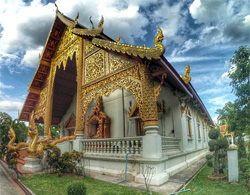 Chiang Mai means 'New City' despite being over 700 years old and is known as the Rose of The North. The city is a cultural wonderland offering ethnic diversity along with a legion of attractions. Here modern and historical Thailand co-exist side by side in perfect harmony. From the walled city, with its centuries old temples and pagodas, to the very latest boutique hotels, Chiang Mai has a lot to offer.
The old city, surrounded by a moat, exudes Thailands' past. Ancient architecture, lively festivals, classical handicrafts, pristine mountains, waterfalls, mouth watering cuisine and hill tribe villages have turned the city into a must visit for tourists. The growth in tourism has resulted in a destination suitable for both backpackers and luxury tourists to enjoy and experience.
There is so much to see and do in this wonderful city that even a two week vacation may not be long enough to take in all Chiang Mai has to offer. Indigenous markets, hot springs, museums, limestone caves, golf ,dragon boat river rides, snake farms, night bazaars, national parks, the Royal Palace, silversmith and silk factories, bars and clubs, abseiling and paragliding, snake farms, elephant riding, cookery schools, night safaris, jungle trekking, the list is endless.
Accommodation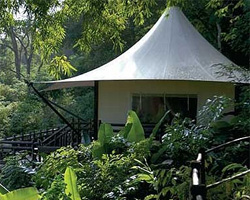 Being a major tourist destination Chiang Mai offers the full range of accommodation from budget guesthouses to luxury hotels. With the recent influx of Chinese tourists, the citys hotel scene is expanding rapidly. New hotels and guesthouses have sprung up all over and are often full, even during the traditional low season.
Be prepared to do some hunting if you arrive without a hotel booking. Make reservations well in advance especially if visiting during Chinese New Year, Songkran, Christmas and other international holiday periods.
[ Attractions/Things to Do in Chiang Mai ]
RezEasy PMS
RezEasy cloud-based PMS offers real-time access from any desktop computer or tablet anytime, anywhere. Handles bookings, reservation updates, folios, housekeeping tasks, POS, reporting, channel management, online reservations, free booking links and more.
The Beach Restaurant
Our restaurant is located at the north end of Bang Saray beach within a few metres of the sea. You can enjoy beautiful sunsets overlooking the Gulf of Thailand with a view of Jomtien beach and Pattaya in the distance.