Satun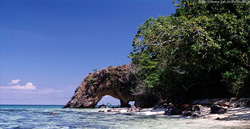 Satun is known primarily by tourists for its spectacular, if rarely visited, islands of Koh Lipe and Koh Tarutao. Due to its location being in the far south bordering Malaysia has resulted in much of the population being muslim of Malaysian descent. This had added a colourful slant to the town especially with regards to food and clothing. Most of the population do not drink alcohol but there are a few bars and liquour can be purchased in supermarkets but this is not a party town.
Satun town itself is rather a sleepy affair used by travelers passing through to Malaysia or one of the many offshore islands. Satun province is covered by verdant forests with a mountainous interior. The area is home to many national parks. Fortunately the region has avoided being drawn into the domestic unrest in the south and remains a safe place to visit.
Accommodation
In Satun and in certain spots along the coast, guesthouses and a few ageing hotels offer good value accommodation and are much cheaper than the bungalows for rent on the islands. There are high end hotels but they are very few in number. If staying on the islands do book ahead as accommodation is limited. There are camp sites in the National Parks and community homestays for visitors wishing to learn the local culture.
Attractions/Things to Do
Tarutao National Park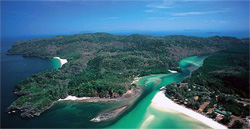 Established in 1974 this marine park consists of over fifty islands, most of which remain virtually untouched, covered in forests and home to wild boar, macaques, deer and numerous species of birds. Ko Tarutao is the largest island and was formerly home to a prison for long term and political prisoners.
The island has several bays including Ao Phante and Ao Mo Lae. Located 40 kilometers west of Ko Tarutao are the islands of Ko Adang and Ko Rawi which are famous for their beaches. Other islands of note are Ko Li Pe, with its sea gypsy village and coral reef, and Ko Hin Ngam which is full of shiny black pebbles all along its beach.
Thale Ban National Park
The park is located in the area of Amphoe Muang and Amphoe Khun Don, and is a picturesque lagoon surrounded by high mountains.  Attractions in the park include Namtok Rani, a small waterfall near the park office, Namtok Yaroi, a medium-size waterfall located 7 kilometerss from Namtok Yaroi and Tham Lot Puyu, an aquatic grotto which can be reached by boat from Tammalang Pierm.
Ko Lipe
Ko Lipe is not under national park protection and is the main place for visitors to stay .On the southern side of this relatively small island is a coral reef and several beach coves. The most popular beach is Hat Pattaya near the village of Chao Leh.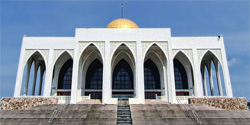 Satun Central Mosque
Built in modern Islamic architecture and ornately decorated with marble and coloured glass, the building is divided into two parts. Outside is a corridor leading to a dome tower which provides tremendous views of Satun town. Inside, the library and prayer hall are located in the basement. The building was constructed in 1979 on the same site as the previous wooden mosque which was too small to accommodate all the worshipers and had deteriorated to such a state that it was considered unsafe.
Satun Museum
Set in the gorgeous Colonial-era Kuden Mansion, the museum is surprisingly extensive. The stately building once served as headquarters for Japanese officers during the Second World War. Beautifully restored in more recent times, it's now devoted to thoughtful displays covering the culture and history of Satun. The two-storey house features shiny teakwood floors and staircases, louvered shutters that have been painted bright teal, and extensive gardens on either side. Even if you're not interested in the exhibits, the centrally located European-style building is attractive enough to at least warrant a walk by. The many atmospheric rooms display ancient weaponry, traditional buffalo head-shaped kites (a Satun symbol) and the wooden frame of a boat that's thought to be over four centuries old.
RezEasy PMS
RezEasy cloud-based PMS offers real-time access from any desktop computer or tablet anytime, anywhere. Handles bookings, reservation updates, folios, housekeeping tasks, POS, reporting, channel management, online reservations, free booking links and more.
The Beach Restaurant
Our restaurant is located at the north end of Bang Saray beach within a few metres of the sea. You can enjoy beautiful sunsets overlooking the Gulf of Thailand with a view of Jomtien beach and Pattaya in the distance.