Getting to and Around Thailand
[ By Air ] [ By Train ] [ By Bus, Car & Songthaew ] [ Bangkok Public Transport ]
Bangkok Public Transport
Bangkok traffic has a justifiable reputation as being notorious and with good reason. However the public transportation systems available are a cheap and easy way to navigate your way around the city.
The Skytrain (BTS)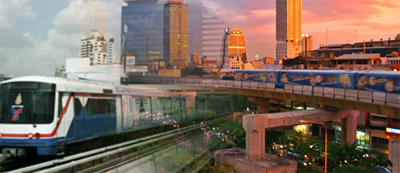 There are two BTS lines. The Silom Line runes west to south, between the National Stadium in the Siam shopping area to Bang Wa in Thonburi. The Sukhumvit Line runs north to east from Mo Chit to Bearing. Trains are very frequent and fares start at 15 baht for a one stop journey.
The Bangkok Subway (MRT)
The Bangkok Subway (MRT) Fast and efficient, the Mass Rapid Transit network (MRT) serves 18 stations and stretches for 20 km in a horseshoe shape from Hua Lamphong in the South (near Chinatown) to Bang Sue in the north. Trains arrive every 5-7 minutes, and connect to the BTS Skytrain at Sukhumvit and Silom stations.
Stops of particular interest to visitors include Kampaengphet (Chatuchak weekend market, Or Tor Kor Market and Rod Fai Market), Sukhumvit (Asok BTS Skytrain), Silom (Saladaeng BTS Skytrain, Pat Pong Night Market and Lumpini Park) and Hua Lamphong (Chinatown and Central Railway Station). The Petchaburi Station is about 300m from the Airport Rail Link's Makkasan Interchange Station, where you can board the express train to Suvarnabhumi International Airport The Skytrain and underground rail system connect the main business, shopping and entertainment areas of the city. River taxis and express boats can be used to explore the many historic sites and attractions at the riverside.
By Taxi
Bangkok taxi drivers have justifiable reputation for overcharging so refuse to get in if he doesn't turn on the meter or arrange the fare beforehand
By Tuk Tuk
There three wheeled vehicles, once a common site are slowly dying out in favour of more modern forms of transport but still worth a ride just for the experience.
RezEasy Booking Engine
Beat the steep commission structure that eats into your revenue by driving direct sales through your website. RezEasy booking engine offers a seamless online booking experience for your guests and is fully customisable to your brand.
The Beach Restaurant
Our restaurant is located at the north end of Bang Saray beach within a few metres of the sea. You can enjoy beautiful sunsets overlooking the Gulf of Thailand with a view of Jomtien beach and Pattaya in the distance.
[ By Air ] [ By Train ] [ By Bus, Car & Songthaew ] [ Bangkok Public Transport ]