Rayong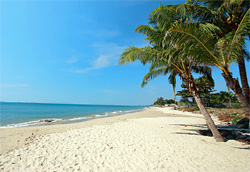 Rayong surprisingly is a late comer to the tourism scene despite having a coastline of over 100 kilometers full of unspoilt beaches, stunning waterfalls and all set in exotic settings. Known for its many seafood restaurants and byproducts such as shrimp farms, dried seafood and fish sauce, the region is also a major fruit growing area. The most commonly grown being durian, rambutan and mangosteen.It has become a popular getaway for Bangkok residents being only 200 kilometers from the capital. Rayong is one of the main gateways to the many islands off the coast, the most popular being Koh Samet
Accommodation
Accommodation on mainland Rayong and the surrounding area is plentiful with a variety of budget guesthouses and decent hotels .The islands have homestay, all types of hotels and many bungalows however without prior booking it can be quite a challenge to find any vacancies especially during the high season.
Attractions/Things to Do
Suphattra Orchards
Located 18 kilometers outside Rayong is a huge fruit and orchard garden. The area is so vast that an open tram bus conducts a thirty minute tour of the gardens which also includes a rubber plantation. Every type of tropical fruit are on sale with free sampling of those you don't recognize. The orchards are rarely visited by Thais making it a mainly foreign tourist destination.
Ban Chang Sports and Seafood Festival
The festival is held annually in late February in the nearby town of Ban Chang. Local residents and tourists enjoy fresh seafood which Rayong is famous for. There is also a Miss Pla Phayun beauty pageant, various cultural performances, sport competitions, music contests, a celebrity football match, and a light and sound presentation.
Koh Samet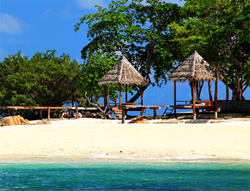 Koh Samet has become a very popular weekend getaway for both expats, tourists and locals alike being only three hours from Bangkok .A lot of the island remains largely unspoilt due to the creation of the Mu Ko National Park. The island has a variety of resorts, some catering for family oriented visitors and tend to be much quieter to those whose main clientele like to party the night away. While Koh Samet sees its share of rain from June to October, it's a solid alternative to the far southern Thai islands that tend to partially close up shop when they're hit by more intense monsoon storms at this time of year.
Pluak Daeng Buffalo Racing
Held in late October or early November this festival consists of not only a series of buffalo races but other competitions as well, including a beauty pageant for ladyboys. There are food stalls galore, dancing, cooking exhibitions, muay thai boxing and other sporting events. There is also an award for the best decorated and well groomed buffalo. The fun starts at 4pm and goes on late into the night.
RezEasy PMS
RezEasy cloud-based PMS offers real-time access from any desktop computer or tablet anytime, anywhere. Handles bookings, reservation updates, folios, housekeeping tasks, POS, reporting, channel management, online reservations, free booking links and more.
The Beach Restaurant
Our restaurant is located at the north end of Bang Saray beach within a few metres of the sea. You can enjoy beautiful sunsets overlooking the Gulf of Thailand with a view of Jomtien beach and Pattaya in the distance.