Banking in Thailand
Opening a Thai Bank Account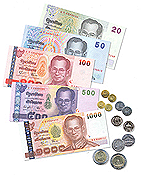 Opening a bank account in Thailand is quite straightforward if you have the relevant documentation. Although banks can vary slightly on what you need to show, all banks will want to see your passport and usually a work permit to show you are working legally in Thailand and have a regular income. This will enable you to open a savings account which is the most popular account for foreigners. Those looking to open a foreign currency account will need a letter of recommendation which can be obtained from your embassy.
ATM cards and passbooks are issued as a matter of course. Having a work permit may allow you to apply for a credit card and in some cases a loan application but remember banks vary in what they offer.
Opening a Business Account can be a daunting task due to the amount of paperwork and other documentation needed and is best done through a Thai accountant. Bank opening hours are generally from 8.30 until 3.30 on weekdays although in urban areas they may stay open later and some will open at weekends. International banks do not have a huge presence in Thailand but some do have a representative office usually in Bangkok. Having said that, Citibank and Deutsche Bank do have a presence in most large cities. The Thai banking system is considered safe and reliable. The most popular banks used by expats are the Bangkok Bank and Siam Commercial Bank whilst Krungthai bank offers the easiest route to opening an account.
Most tourist areas are awash with places to exchange money. The opening hours vary but normally open from 9.00 until 6.30 with some staying open much later.
Thai Baht Exchange Rate
Banks adjust their exchange rates on a daily basis, in line with international money markets, and usually offer the best rates. Hotels and some shops also offer exchange services usually at less favourable rates.
Banking hours in Thailand are 8.30 am to 3.30 pm Monday to Friday. You will find currency exchanges at all major tourist areas. These are open daily from 9.00am until around 6.30pm, with some staying open until late evening.
I Want to Convert:
RezEasy PMS
RezEasy cloud-based PMS offers real-time access from any desktop computer or tablet anytime, anywhere. Handles bookings, reservation updates, folios, housekeeping tasks, POS, reporting, channel management, online reservations, free booking links and more.
The Beach Restaurant
Our restaurant is located at the north end of Bang Saray beach within a few metres of the sea. You can enjoy beautiful sunsets overlooking the Gulf of Thailand with a view of Jomtien beach and Pattaya in the distance.