Fishing in Thailand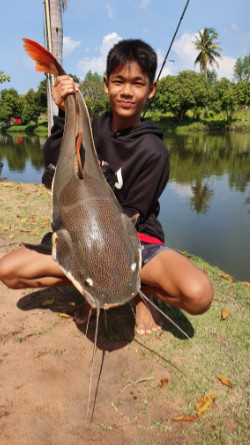 Thailand has many fishing areas. Sport fishing is a big industry and there are many options for both the novice and experienced fisherman.
Thailand has both freshwater and sea fishing. The waters surrounding the many islands near Phuket are famous for the large numbers of saltwater species and Thai freshwaters are renowned for their many world record catches.
Freshwater Fishing
Near Chiang Mai In the north of the country, there are several lakes with large catfish. If you are after carp then Bangkok and Pattaya offer some prime spots. Not far from Kanchanaburi is a large reservoir which is renowned for the huge snakehead fish. Further south Krabi and Phuket has some lakes with many huge fish.
Freddies Fishing Park - Pattaya
Freddie's Fishing Park has many fish species, catfish including Amazon red tail, alligator gar, giant snakehead, carp, rohu, barb, pacu and tilapia. Rental tackle, accommodation and raft fishing available. Cost per person ฿350-฿500, rod hire ฿150. Landing nets, landing mats, towel and pliers are included in the price of fishing. During the low season the park is closed on Sunday and Monday but you can book the whole park for ฿5,000 on these days. Located in Huay Yai, GPS co-ordinates N12.85302, E100.94246
Amazon Fishing Park - Pattaya
Good selection of Amazon red tail and alligator gar plus a couple of 30kg siamese carp. Rental tackle is limited so bring your own if you can. Price is ฿1500 per person for the lake. They also have a small pool which is much cheaper. Located in Baan Amphur near Dusit Pattaya Park and Wat Wansangwararam, GPS co-ordinates N12.8050807, E100.9385965
Lek's Fishing Park Udon Thani
In a private and secluded setting Lek's Fishing Park boasts well over 55 different exotic fish species ranging from huge Mekong Catfish to Giant Siamese Carp, with predators such as the Arapaima, Alligator Gar, Chao Phraya Catfish, Amazon Redtail and many more. Located 3 km away from Udon Thani airport, GPS co-ordinates N17.3622189, E102.722978
Some Other Venues
Castaway Fishing Park, Jomtien Fishing Park, Paifon Fishing Park, Pattaya Fishing Park, Hookers Fishing Park, all located in and around Pattaya.
Bung Pra Buk - Ayutthaya
Bungsamran - Bangkok
Jurassic Mountain - Cha-am
Gillhams Fishing Resort - Krabi
Chiang Mai Fishing Park - Chiang Mai
Sea Fishing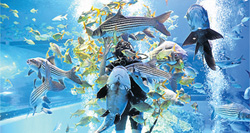 The best saltwater sport fishing is to be found around Phuket. The continental drop lies southwest of the island and is home to swordfish, marlin, giant trevally, tuna, and sailfish. Being warmer and less saline than the Andaman coast, the Gulf of Thailand offers a wide variety of fish. The popular islands of Koh Samui and Koh Phangan are good for eagle rays and barracuda. Off the coast of Koh Doa there is a wreck where African pompano and trevally can be caught.
Fishing is a year round sport in Thailand but obviously different fish are available at different times of the year. As a general rule of thumb, November to April are good months for tuna, giant trevally and sailfish. Freshwater fishing is possible year round
Conservation and Ecology
Thailand's fish stocks have been declining over recent years largely due to commercial fishing, although sport fishing also has an effect. The industry is growing very quickly but there is no management of the sport. Many tour operators ignore national park boundaries and bans on endangered species However, some fishing tour operators and parks are now encouraging catch and release practices to help maintain fish stocks.
Permits
Permits are not required in Thailand for rod fishing. However, there are regulations regarding fishing in certain locations and for some endangered species. When fishing at a fishing park or on a fishing tour, any permits needed should be arranged by the tour operator. Marine National Parks do not allow any fishing and it is illegal to fish for certain freshwater species such as the Siam Tiger fish, the Siamese Butterfly Catfish and the Malayan Bonytongue. With regard to sea fishing a full list of species that may not be caught is available from the Thai Department of Fisheries.
RezEasy PMS
RezEasy cloud-based PMS offers real-time access from any desktop computer or tablet anytime, anywhere. Handles bookings, reservation updates, folios, housekeeping tasks, POS, reporting, channel management, online reservations, free booking links and more.
The Beach Restaurant
Our restaurant is located at the north end of Bang Saray beach within a few metres of the sea. You can enjoy beautiful sunsets overlooking the Gulf of Thailand with a view of Jomtien beach and Pattaya in the distance.