Thailand Yachting Guide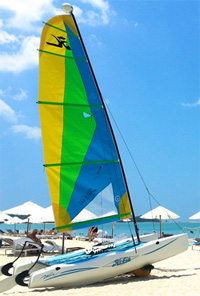 Thailand is known as one of the most popular tourist destinations in the world and it's not hard to see why: with over 1,000 miles of mainland coastline and countless islands, the spectacular tropical scenery is what dreams are made of. The beaches in Thailand are truly breath-taking, with pristine white sand, crystal clear waters and swaying palm trees, and there is no better way to explore them than by boat.
Sailing around Thailand's stunning coastline not only gives you unprecedented access to some of the country's most remote locations and pristine beaches, but also means that you can explore Thailand's hidden gems at your own leisure. Thailand is especially famous for is its healthy and delicious food, so have a look at our gastronomic guide to tasting your way around Thailand from the water.
When and Where to Go
Although Thailand is an all year round sailing destination, the best time to visit is between December and March. May through to October is the rainy season, so although you can still cruise during this period, the high winds mean that only more experienced sailors should attempt sailing during this time.
While it has four distinctive regions, it is the southern peninsula of Thailand and in particular Phuket, that is the most popular yacht charter destination. From this area you are perfectly situated to reach hundreds of uninhabited islands and enjoy plenty of scuba diving, swimming and snorkelling.
The cruising grounds of the island of Phuket are among the best in the world, and as you drift along the sparkling turquoise waters you will be able to admire the remarkable rock formations of Phang Nga Bay, the protected Butang Islands, the colourful reefs and vast caves of Koh Hong, fabulously beautiful Krabi and the exquisite Phi Phi Islands, as well as sampling some of each region's delicious cuisine.
Phuket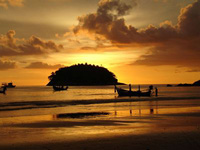 As one of the most popular yachting destinations in South East Asia, Phuket has plenty of secure anchorage. The rather cloudy East Coast shoreline of Phuket has the only all-year anchorage, Ao Chalong, located at the southern end of the island. Also on the eastern side is the Boat Lagoon, Yacht Haven and Royal Phuket Marina, so you will have plenty of options of where to moor your boat. With a wealth of beaches, parks and forests to explore, fascinating culture to uncover, brilliant dining options and vibrant nightlife, Phuket has it all, so you can anchor here and spend weeks doing something new each day.
Beside Bangkok, Phuket undoubtedly has the widest variety of cuisine in Thailand and you will be truly spoilt for choice here. The blend of sweet, sour, hot and salty flavours is what makes Thai food so distinct, and perhaps the dish with the most noticeable mix of flavours is tom yum, the national soup of Thailand and possibly the dish that best captures the fragrant tastes of this wonderful country.
The name tom yum simply means 'hot and sour soup' and the concoction of ingredients in this dish have a multitude of health benefits as well as a delightfully unique taste. Lemongrass, kaffir lime leaves, galangal and shallots ensure an intoxicating aroma, with chillies and fish sauce providing a kick of heat. The soup itself can contain all manner of ingredients, from pork to chicken to crab, although prawns are the most frequently used. Pair the soup with noodles or rice and become instantly hooked!
Phang Nga Bay
The province of Phang Nga is famed for its staggering beauty and boasts many outstanding natural attractions, such as the magnificent Phang Nga Bay, the sandy coast of Khao Lak and the island groups of Surin and Similan. which are renowned for their incredible underwater scenery and draw divers from across the globe. Anchorage is good around the Koh Hong islands and to the west of Koh Na Khae, and it's possible to anchor virtually anywhere in north Phang Nga Bay due to the shallow depth of the water.
The food in this region is similar to most southern Thai cuisine; famous for its astonishing heat and extraordinary depth of flavour, the food here is strongly influenced by Malaysian, Indian and Indonesian cuisine. A Phang Nga favourite is Massaman, an Indian-style curry with coconut milk, potatoes, roasted peanuts, bay leaves, sugar, cinnamon and tamarind sauce and served with either pork, beef or chicken.
Seafood enthusiasts will be entirely at home here, as the surrounding ocean plays a huge role in Phang Nga cuisine. Fresh fish and shellfish are in abundance here and often are displayed in front of beachside eateries, so you can choose what to eat according to what looks best. Koh Panyi in the Phang Nga region is celebrated for its unrivalled shrimp paste, so it's certainly advisable to stock up while you're here!
Krabi
Less commercialised than nearby Phuket, Krabi has a similarly spectacular landscape, with plenty of caves and waterfalls just waiting to be discovered and hundreds of idyllic islands scattered off the shore. This is where sightseeing in a boat really comes into its own, as you can spend the day cruising through the clear waters and exploring these mysterious islands at your own leisure. There is anchorage and a new resort with several restaurants at Ko Racha Yai, where you can enjoy plenty of diving, snorkelling and scuba diving. You can also anchor in the between the beautiful twin islands of Ko Rok Nok.
RezEasy Booking Engine
Beat the steep commission structure that eats into your revenue by driving direct sales through your website. RezEasy booking engine offers a seamless online booking experience for your guests and is fully customisable to your brand.
The Beach Restaurant
Our restaurant is located at the north end of Bang Saray beach within a few metres of the sea. You can enjoy beautiful sunsets overlooking the Gulf of Thailand with a view of Jomtien beach and Pattaya in the distance.