Chiang Rai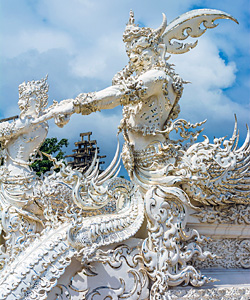 Chiang Rai is a far quieter and more laid back town than its better known neighbour Chiang Mai. The area is known more for its cultural heritage and pristine natural beauty than for a place to go clubbing or partying. This is reflected in the much slower pace of life. The main reason people visit is to escape the hustle and bustle of city life with its hordes of visitors and to chill out. Ancient ruins, Buddhist shines, mountains and the cooler temperature make this an ideal destination to explore Thailands natural beauty.
It is not surprising therefore that activities such as trekking, bike tours, and immersing oneself in the rural traditional lifestyle are the things people come for and remember. Many of the attractions are community developed projects which are not only eco friendly but designed to directly help the economy of rural villages without adversely harming the indigenous culture and lifestyle.
Accommodation
Chiang Rai offers a fair range of accommodation. Popular with backpackers is an area near Mae Kok river where cheap rooms and hostels are available. Mid range hotels built in the Thai Chinese style can be found all around the town with the more upmarket resorts and hotels located along the riverside. Homestay lodgings are available in certain hill tribe villages. If choosing the homestay option booking in advance is usually obligatory through a number of online operators.
Attractions/ Things to do
Wat Phra Kaew
This wooden structured Royal Buddhist temple dates back to the 14th century and is the most revered in Chiang Rai. It was here that the Emerald Buddha, the most highly revered of all Buddha images was discovered Built in traditional Lanna style the building has been remarkably well preserved. Adjacent to the temple is a modern wooden museum which houses many Lunna artifacts. Although a tourist attraction the temple is very active with monks studying and living on the premises.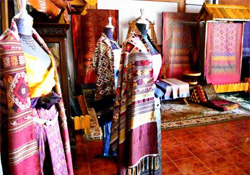 Shopping
Chiang Rai has many rural communities engaged in the production of indigenous handicrafts or involved in agriculture. All these goods can be bought in Chiang Rai city itself, however it is more rewarding to visit the traditional villages and meet the people who made your souvenir. Other popular items include silverware and Thai silks. Probably the most important shopping spot is the Night Bazaar next to the bus terminal.
Around Chiang Rai
Reflecting the cultural background of Chiang Rai province many local companies offer tours to the Golden Triangle and visits to long necked Karen tribes passing through the many scenic valleys and mountains of Northern Thailand.
Doi Inthanon National Park boasts the highest peak in Thailand. This beautiful national park is famous for its huge range of birds, flowers and trees, interspersed with spectacular waterfalls.
Elephant safaris are always popular. Riding these magnificent animals through the jungle is an unforgettable experience.
A far slower way to appreciate the stunning terrain is by bamboo rafting. Relax as you are punted serenely along the river dissecting the jungle.
Game fishing has become another pastime gaining in popularity. The Mekong River is known for its giant catfish, snakehead and jungle perch.
RezEasy PMS
RezEasy cloud-based PMS offers real-time access from any desktop computer or tablet anytime, anywhere. Handles bookings, reservation updates, folios, housekeeping tasks, POS, reporting, channel management, online reservations, free booking links and more.
The Beach Restaurant
Our restaurant is located at the north end of Bang Saray beach within a few metres of the sea. You can enjoy beautiful sunsets overlooking the Gulf of Thailand with a view of Jomtien beach and Pattaya in the distance.