Gold, Gemstones & Jewellery (continued)
Do . . .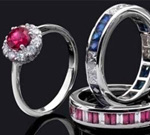 Avoid buying from any stranger who poses as a government representative with promises to take you to a gem shop offering exciting deals. The same applies to taxi or tuk-tuk drivers with similar promises. Such agents are usually collecting commission from the shops they take you to and the overpriced items offered may not meet the expected quality standards.
Check information about the shops you visit – as well as any details of the offered items before you make the decision to buy. Don't be pressured into a hurried purchase.
Look for the Jewel Fest Club (JFC) emblem – this certification that ensures product quality before you buy gems or jewellery at outlets in Bangkok and beyond.
Ask the seller to write down the details of any purchased items on your receipt; such as, type of stone, colour, weight, size, cut, and quality. The quality of course, makes a huge difference to the value of the stone. If possible, check these details thoroughly before you pay.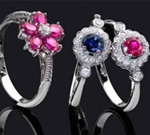 Always ask to see the stone in daylight even if they tell you that they have a daylight lamp in the shop.
Ask for a certificate of authenticity with a laboratory report issued by authorised gemologists from the Gem and Jewellery Institute of Thailand (GIT) or the Asian Institute of Gemological Science (AIGS). Lab reports should be recent and not several years old.
Visit the Jewellery Trade Centre on Silom Road to buy gems and jewellery stress-free. This has long been the best place to buy such items in Thailand. The reliable sellers here have been in the business for decades and they also offer excellent returns and refund policies
Purchase at shops with the sign VAT Refund for Tourists. Also note that the total value of goods purchased for a VAT refund must be at least 5,000 Baht.
Keep the VAT refund form and the copy of the tax invoice along with the goods to present to the custom officials yourself at your port of disembarkation within 60 days of the date of purchase.
Don't . . .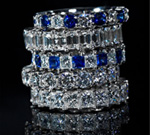 Do not trust any sweet-talking touts who approach you on the street promising bargains that will make you a fortune and who offer to take you to a nearby gem shop. It is almost certain that you are being scammed.
Do not buy right away. Try to find information about the stones being offered, write it down, and, at the very least check this information on the Internet, especially the prices. If there is a huge difference, something is wrong.
Do not purchase products that are offered with surprisingly incredible deals. If a deal seems too good to be true, it probably is.
Do not ever expect to buy a cheap stone in Thailand to sell it for a higher price in your home country.
Trusted sources of gems and jewellery
Many shopping streets of Bangkok are famous for certain kinds of gemstones. The recommended areas include:
Silom and Surawongse Roads: Bangkok's best shopping streets for diamonds, genstones and jewellery of finest quality. The Jewellery Trade Centre is a reliable and safe place to buy.
Mahesak Road: Also known as the gemstones street, this area offers a wide variety of gemstone products from leading exporters and wholesalers of Thailand.
Yaowarat Road: For gold lovers, there is no other better place than Yaowarat – Chinatown's main thoroughfare. The busy street is lined with gold shops and outlets offering various kinds of gold jewellery.
Charoen Krung Road: A centre for silver with wholesale and retail shops offering unique accessories and designs of silver products.
RezEasy PMS
RezEasy cloud-based PMS offers real-time access from any desktop computer or tablet anytime, anywhere. Handles bookings, reservation updates, folios, housekeeping tasks, POS, reporting, channel management, online reservations, free booking links and more.
The Beach Restaurant
Our restaurant is located at the north end of Bang Saray beach within a few metres of the sea. You can enjoy beautiful sunsets overlooking the Gulf of Thailand with a view of Jomtien beach and Pattaya in the distance.