Ubon Ratchatani - Things to Do/Attractions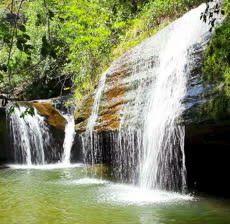 Pha Taem National Park
Located about 25 kilometres north of Khong Chiam is Pha Taem National Park. To fully appreciate the parks beauty it is best explored by private transport. The cliffs offer incredible views of the surrounding area. At the base of the cliffs are over 300 prehistoric cave paintings said to be over 3000 years old.
Waterfalls
There are three spectacular waterfalls  Soi Sawan, Saeng Chan and Thung Namuang. All are at their best during wet season. The most popular being Saeng Chan Waterfall which spills through a large hole in a rock rather than over a cliff and appears to fall in the shape of a heart. The name means moonlight waterfall because the attraction is supposedly best viewed by full moonlight. It is possible to camp or rent a very basic cabin although it is better to stay in nearby Khong Chaim which has a better choice of accommodation.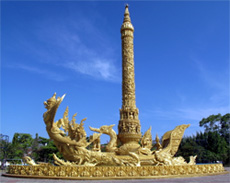 The Candle Festival
Held on Khao Phansa day in July, this is the region's biggest event. It marks the start of the rainy season retreat when for three months monks do not leave their temples and people vow not to drink alcohol and refrain from any negative thoughts and actions. Massive wax candles are displayed in Thung Si Muang Park and later form part of a procession through the town. There is another illuminated boat procession to mark the end of the rains in October but it is on a much smaller scale,
Wat Thung Si Meuang
The Wat was originally built to harbour a replica of Buddha's footprint but today is known for its precious scriptures and murals. The temple rests on tall angled stilts in the middle of a pond to protect its holy exhibits from termites and ants. This obviously works well as the murals and scriptures, which are written on palm leaf paper, are in remarkably good condition. The temple is kept open allowing people to look inside. Built during the reign of Rama III the classic Tripataka hall is also in excellent shape.
Udon Jungle Park
This is a very recent attraction. You have the option of seeing the park by tour bus or hiring your own golf cart. Not a huge place and easily seen in a couple of hours but it does however make a nice afternoon out. Set in a beautifully forested area with plenty of shade the zoo exhibits lions, reptiles, elephants and tigers as well as many Mekong aquatic animals. Entrance is free; you only pay for the bus or golf cart.
[ Ubon Rachatani Overview & Accommodation ]
RezEasy Booking Engine
Beat the steep commission structure that eats into your revenue by driving direct sales through your website. RezEasy booking engine offers a seamless online booking experience for your guests and is fully customisable to your brand.
The Beach Restaurant
Our restaurant is located at the north end of Bang Saray beach within a few metres of the sea. You can enjoy beautiful sunsets overlooking the Gulf of Thailand with a view of Jomtien beach and Pattaya in the distance.