Tourist Police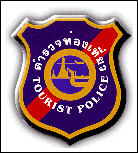 With the growth of tourism over the last 30 years a special unit has been set up by the Royal Thai Police force to deal with the safety and well-being of tourists. The officers of the Tourist Police wear a distinctive badge on the their arm and speak English and some other European languages. They can be called upon in all kinds of situations, such as road traffic accidents, theft, disputes with hotels or shop keepers where a foreign tourist is involved. They will act as arbitrators on disputes, and in our experience they do so in an unbiased fashion.
This page is created for your information. Our website IS NOT the Tourist Police site. Please do not email us asking for assistance is legal disputes. You should contact one of the office below or phone 1155.
National Tourist Police Call Centre Telephone: 1155
The force has offices in the major tourist areas:
Other Tourist Police Numbers
Bangkok tourist assistance Centre call (02) 281 5051
Pattaya tourist police (038) 429 371
Phuket tourist police (076) 225 361
Chiang Mai tourist police (053) 248 130

Other Emergency Numbers
General Emergency Call: 191
Ambulance and Rescue: 1554
Medical Emergency Call: 1669
Other Useful Numbers
Telephone Directory Assistance: 1133
Tourist Service Centre: 1672
Bangkok Taxi Call Centre: 1681, 1661, (02) 424 2222
Credit Card (Visa, Master Card): (02) 256 7326 to 7327
Social Media
Facebook
RezEasy Booking Engine
Beat the steep commission structure that eats into your revenue by driving direct sales through your website. RezEasy booking engine offers a seamless online booking experience for your guests and is fully customisable to your brand.
The Beach Restaurant
Our restaurant is located at the north end of Bang Saray beach within a few metres of the sea. You can enjoy beautiful sunsets overlooking the Gulf of Thailand with a view of Jomtien beach and Pattaya in the distance.