Pattaya - Attractions/Things to Do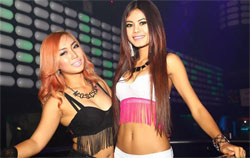 Walking Street
Probably the most famous red light street in the world. Located between Soi 13 and Soi 16, Walking Street is the very epitome of Pattaya's existence. Closed to traffic and drenched in neon, armies of girls vie for customers to enter their bars.
Raunchy shows, massage parlours and discos are in abundance. Being such a popular tourist area it is well policed and usually very safe. If only for the 'I've seen it' experience more than 'I've done it' enjoyment, a visit is almost obligatory for any visitor to Pattaya.
Koh Larn Coral Island
Accessible by ferry or speedboat, Koh Larn Island is a beach paradise offering crystal clear waters and pure white sand. Available activities include snorkeling, water skiing, windsurfing and parasailing. The island has six main beaches all of which have restaurants selling seafood caught that morning. Accommodation is limited but there are some resorts offering rooms and various bungalows for hire.
Ladyboy Cabaret Shows/Alcasar and Tiffany
There are two main venues to see these wonderfully over the top, glamorous and glitzy shows. It has been said if you want to see a great show go to Alcasar,but if you want to see really beautiful ladyboys head for Tiffany. The shows have spectacular stage sets, extravagant costumes and incredible looking kaytoys. Both shows are very professionally done with dances and musical routines that make for an enjoyable and memorable evening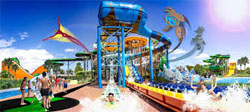 Amazone Waterpark
Opened in 2014 the park is located on Sukhumvit road about 30 minutes drive from the centre of Pattaya. This is a great place for families and is popular with Thai's at weekends and bank holidays.
Nong Nooch Tropical Gardens
This beautifully kept landscaped park is spread over 2.5 square kilometers and takes a full day to fully appreciate what the gardens have to offer. Featuring flora from all over the world this renowned botanical paradise has won numerous awards for its diversity and imaginative garden designs. Also available are spectacular Thai cultural shows featuring elegant costumes, graceful dance movements and traditional music. Other activities include elephant rides, cycling and boating.
Pattaya Floating Market
This large floating market covers over 100,000 square meters and is divided into four separate areas. Each area represents the four major parts of Thailand (north, south, east and west) and sells produce and items from that particular region. There are over 114 water vendors and shops selling a variety of goods including authentic Thai food, herbs and spices, desserts, fruit stalls, souvenirs and art. There is a cultural show every afternoon.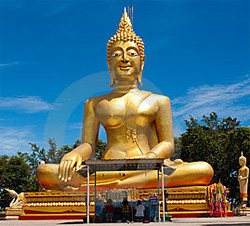 Wat Phra Yai Temple
Located at the top of Pratumnak Hill is the Wat Phra Yai temple, home to an enormous 18 meter high golden Buddha. The Big Buddha, as it is known, is famed for its intricate designs. Despite the many tourists, the temple remains a place of worship and the burning incense and wreathes reflect a quiet and revered atmosphere. Access is by an impressive staircase with golden dragons running along its entire handrail. The views from the temple offer a good photo opportunity.
Golf
If you enjoy golf then Pattaya is your utopia.There are over 20 premium world class courses within a 40 kilometer range. The top quality courses include Laem Chabang International Country Club, Burapha Golf Club, Phoenix Golf and Country Club, St Andrews 2000, Siam Country Club, Bangpra Golf Club, Kha Kheow Country Club and Green Valley Country Club.
[ Pattaya Overview & Accommodation ]
RezEasy PMS
RezEasy cloud-based PMS offers real-time access from any desktop computer or tablet anytime, anywhere. Handles bookings, reservation updates, folios, housekeeping tasks, POS, reporting, channel management, online reservations, free booking links and more.
The Beach Restaurant
Our restaurant is located at the north end of Bang Saray beach within a few metres of the sea. You can enjoy beautiful sunsets overlooking the Gulf of Thailand with a view of Jomtien beach and Pattaya in the distance.