Krabi Attractions/Things to Do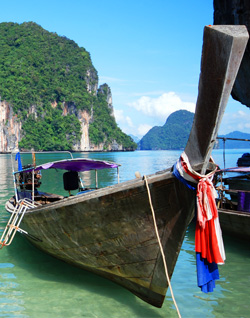 Ao Nang Beach
About 15 kilometers outside of Krabi Town, Ao Nang is the most commercialized and busiest beach in the area. The explosion of tourists, due to the airport, has changed Ao Nang from being a backpacker favourite into a far more up market destination. However, the continual noise coming from the long tail boats with their undampened motors can distract from the beauty of the beach.
Krabi Town
Often overlooked by the hordes of tourists heading straight for the beaches, Krabi Town is worth a visit if just to experience the real Thailand something that is missing at the beach resorts. Shopping here is much cheaper than in the tourist centers especially food and drink. The town is well served with markets. For the early birds the huge daily covered market selling mainly food and local produce tends to run down by 8'o clock in the morning. A Walking Street night market also operates at the weekends. In the low season not many restaurants stay open however there are a few bars catering for both tourists and locals.
Koh Phi Phi
Most hotels in Krabi and Phuket arrange boat trips to Koh Phi Phi which is in fact made up of six islands Phi Phi Don is the largest and has some splendid beaches. Those after a quiet relaxing day head for beaches at Hin Khao,Laem Thong and Lanti. Those after more action usually end up at Ton Sai Beach with its bars and restaurants. The second largest island is Phi Phi Leh, a beautiful pristine island, totally uninhabited and now has national park protection. The island is home to Maya Beach which became famous as the setting for the 1998 movie The Beach with Leonardo DiCaprio. The other islands also offer stunning natural beauty and diving and snorkeling are popular pastimes.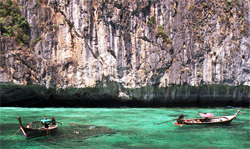 Tiger Cave Temple
Only a short distance from Krabi Town is Wat Tham Sua or Tiger Cave Temple. This natural wonder, set in lush jungle is a series of caves and home to monks who worship in this spectacular natural environment. It really is a spiritual experience but remember to dress respectably. There are however no tigers.
Koh Lanta
Popular with a significantly older crowd than nearby Koh Phi Phi and aimed more at people who prefer walking along the beach and admiring beautiful sunsets than partying the night away.
Having said that you can still drink and dance the night away in several bars and restaurants if you know where to look but it is on a much smaller scale compared to other islands. Not as popular as Koh Phi Phi means that the beaches rarely get crowded even at peak times so there is always somewhere to relax.
[ Krabi Overview & Accommodation ]
RezEasy Hotel Portal
RezEasy Portal lets you make deals directly with hotel, B&B, villa and apartment owners and take bookings for those properties on your website. Our partnership with Google means getting commission-free bookings directly in RezEasy from Google's Free Booking Links.
The Beach Restaurant
Our restaurant is located at the north end of Bang Saray beach within a few metres of the sea. You can enjoy beautiful sunsets overlooking the Gulf of Thailand with a view of Jomtien beach and Pattaya in the distance.