Koh Samui - Attractions/Things to Do
The main attractions are the beaches. Most offer water activities such as jet skiing, banana boats, water skiing, snorkeling, diving etc. are available.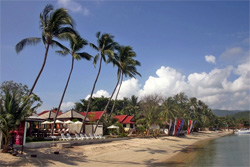 Chaweng Beach
The last two decades the beach has been witness to a huge transformation. From a few simple wooden houses Chaweng Beach is now swamped with go-go bars, pubs, pizza joints and bars. The nightlife has become legendary which sometimes doesn't always attract the best in quality tourists. It does get crowded at peak times so always book ahead for accommodation.
Lamai Beach
Although not dissimilar to Chaweng when it comes to exciting nightlife, the beach is generally in a better condition and whilst busy, it is not as crowded. If it's a quiet beach holiday you are after then Lamai is not for you. However the northeast end of the beach tends to be a bit quieter and is lined by bungalows, quality guesthouses and luxury resorts.
Bang Rak Beach
Although developed with the bars and restaurants, the two kilometer long Big Bhudda Beach as it is known, offers a good mix of swimming and lovely views. Once a month the island plays host to a Full Moon party.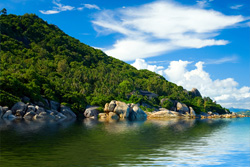 Mae Ean Beach
More suited for families, this is a good spot for sunbathing and relaxing. The beach slopes very gently into the sea resulting in shallow waters ideal for children.
Chong Mon
Although being only ten minutes from Chaweng it could not be more different – a good beach for those who want peace and quiet. Ideal for relaxing.
Bophut Beach
Located in the north of the island Bophut Beach is less commercialized than Charweng but it still boasts many bars and restaurants. The area is a popular resort for diving holidays.
Elephant Shows
Located on the main road directly behind Bophat Beach. The show, performed in an open air theatre, includes performing elephants and trained monkeys. However, attitudes have changed in recent years and many question the morality of capturing and training wild animals.
Samui Aquarium and Tiger Zoo
Near Na Thian Beach, south of Lamai,the Samui Aquarium and Tiger Zoo provides a good day out for all the family. This modern building is home to a vast array of vibrant tropical fish, turtles, stunning coral and other marine exhibits. The Tiger Zoo is home to leopards and Bengal tigers.
Wat Khunaram
This is the most famous temple on the island. Its fame is due mainly to a mummified monk on display. Sitting upright and encased in a glass casket, devotees offer up incense and flowers. The mummy is, in fact, a meditation master who was a very revered former abbot of the temple.
[ Koh Samui Overview & Accommodation ]
RezEasy Hotel Portal
RezEasy Portal lets you make deals directly with hotel, B&B, villa and apartment owners and take bookings for those properties on your website. Our partnership with Google means getting commission-free bookings directly in RezEasy from Google's Free Booking Links.
The Beach Restaurant
Our restaurant is located at the north end of Bang Saray beach within a few metres of the sea. You can enjoy beautiful sunsets overlooking the Gulf of Thailand with a view of Jomtien beach and Pattaya in the distance.