Chumphon Attractions/Things to Do
Chaofasalaoi Temple
This temple is dedicated to a revered monk called Luang Pu Song and is particularly important to the local residents. The monk was so holy that after his death his body did not decay. In the temple grounds is a much hallowed large sala tree with an oddly shaped trunk and orange blooms . The tree is much beloved by the locals as it is said that the Lord Buddha was born under a sala tree.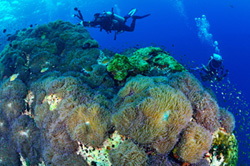 Plasuanmontip National Park.
Located in the sub district of Banna this is a must for nature lovers. Entrance to this privately owned park is free. There are mountains and forests all around bursting with tropical flora and a large pond full of carp and other ornamental fish. Because it is not on the tourist trail the park is very clean and quiet. The best place to sit, reflect, relax and feed the fish is in the ornate pavilion.
Koh Thalu
Koh Thalu is an island roughly 7 kilometers off the coast of Ban Nong and is accessible by ferry or speedboat. Stretching for over two kilometers the island offers abundant beaches, with pristine white sands, mountains and coconut plantations. The most favoured beaches are Ao Sai Yai, popular with divers, kayakers and sailors, and Ao Thain, much beloved for its beautiful setting and scenery .Other activities include rock climbing and trekking. The island also allows camping in certain areas
Wat Phrathat Sawi
Located on the banks of the River Sawi this temple is important as it is believed to contain relics of the Lord Buddha. Dating back to the 17th century the chedi contains the Phra Suea Mueang Shrine
Chumphon Night Market
Held in the main street leading from the railway station the market sets up around 4pm. Selling clothes, swim wear, T shirts, knives,household items, fruit, vegetables etc. the market itself is not particularly spectacular but it is a great place to eat cheap local fare and people watch. On Tuesdays and Thursdays there is another market further down the Krum Luang Road and on Fridays and Saturdays there is another market opposite the town hall.
Khao Phlu Wildlife Conservation Area
Khao Phlu Wildlife Conservation Area covers the 2-kilometer mountain range of Khao Plu. There are 2 caves, the Khao Plu Cave and the Nam Rod Cave. The first houses a statue of the famous monk of Chumphon - Lung Phor Cheep Bunyasaro. The second one houses a 6x15-meter pool and many bats. There are also beautiful stalactites and stalagmites. The caves are also a popular playground for hundreds of langurs who come here to look for food.
Hew Lom Waterfall
This waterfall is located at Ban Bok Fai, Tambon Pak Song, in Kuan Mae Yai Mon Wildlife Sanctuary and best accessed in a 4-wheel drive vehicle. From Hew Lom Forest Guard Unit, there is a trek for 500 metres through the fertile evergreen forest. The waterfall is more than 80 metres high, surrounded by various kinds of trees. It is a venue for relaxation, trekking, nature studies, and has a bird sanctuary for twitchers.
[ Chumphon Overview & Accommodation ]
RezEasy PMS
RezEasy cloud-based PMS offers real-time access from any desktop computer or tablet anytime, anywhere. Handles bookings, reservation updates, folios, housekeeping tasks, POS, reporting, channel management, online reservations, free booking links and more.
The Beach Restaurant
Our restaurant is located at the north end of Bang Saray beach within a few metres of the sea. You can enjoy beautiful sunsets overlooking the Gulf of Thailand with a view of Jomtien beach and Pattaya in the distance.