Bangkok - Attractions/Things to Do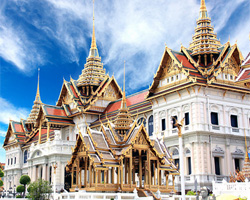 Grand Palace
Bangkok's paramount must-see sight is this architectural and spiritual treasure, which is twice as dazzling if you see it on a sunny day, while observing the ban on sandals, shorts and bare shoulders. Nearly 2km (1.5 miles) of walls with lotus-shaped crenellations enclose what was once a self-contained city of throne halls, royal chambers, servants' quarters, ministries and a prison. Begun in 1782, it was modified by each Chakri king. Since King Rama IX moved to Dusit, its use is mainly ceremonial, but it still remains one of the kingdom's holiest landmarks.
Chinatown
Bangkok's Chinatown is a popular tourist attraction and a food haven for new generation gourmands who flock here after sunset to explore the vibrant street-side cuisine. During the day, it's no less busy, as hordes of shoppers descend upon this 1-km strip to purchase staple Thai food, trade gold, or pay a visit to one of the Chinese temples. Packed with market stalls, street-side restaurants and a vast concentration of gold shops, Chinatown is an experience not to be missed. The energy that oozes from its endless rows of wooden shop-houses becomes contagious Plan your visit during major festivals, such as Chinese New Year, and you will see Bangkoks' Chinatown at its best.
Wat Pho
There's more to Wat Pho than just the impressive reclining Buddha. The temple harbours a fascinating collection of murals, inscriptions and sculptures that delve into various subjects, from warfare to astronomy and archaeology. The huge temple complex also contains a landscaped garden with stone sculptures, a souvenir shop and the College of Traditional Medicine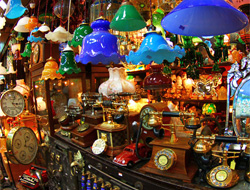 Chatuchak Weekend Market
A must-see for tourists coming to Bangkok seeking some retail therapy. The huge market covers 27 acres and is divided into 27 different sections. There are over 15,000 stalls selling wares from all over Thailand and beyond. . A smaller market is open on Wednesday and Thursday but is restricted to selling plants and flowers. Friday is for wholesalers.
It's on Saturday and Sunday at the miscellaneous market that visitor numbers reach 200,000
Khao San Road
Although well known as a backpackers hangout, Khoa San Road has much more to offer. Visitors tend to be an eclectic mix of people from all over the world. Whilst the traditional Thai market stalls still operate, in recent years the area has been somewhat modernized.Still a great place to have a beer and people watch during the day, the evenings are a different matter. Modern clubs and cocktail bars offer up a vibrant energy with a variety of live music.
Patpong & Soi Cowboy
Patpong is located between Silom and Siriwongse roads. Open air bars, clubs, stalls selling all manor of items, can be found here. It's well worth a visit even if you don't want to participate.
Unlike its counterparts, Patpong and Nana Plaza, Soi Cowboy has a more relaxed, carnival feel to it. It was named after an African American cowboy who opened the first bar back in the 70's. Flashing neon signs light up a colourful streetscape full of bars and eateries and of course a lot of skimpy dressed girls who are not backward about coming forward .Well worth a visit just to experience the fun atmosphere.
Bangkoks Floating Markets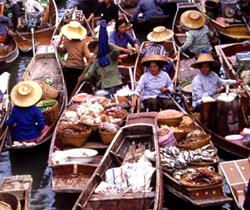 Damnoen Saduak Floating Market
Damnoen Saduak is the most popular floating market in Thailand and offers a plethora of photo opportunities. The market is at its liveliest in the morning to avoid the heat. It's an enjoyable morning out of the city and if you avoid the tourist shops you can get a real sense of the place. The market is over an hour outside Bangkok, and the easiest way to get there is to join a tour.
Amphawa Floating Market
Amphawa is the second most popular floating market near Bangkok. Although not as large as Damnoen Saduak it is more authentic, and most of the shoppers will be Thai. Located 50 km from Bangkok it has become such a magnet for Thai weekenders that the number of food stalls have grown and now spread from the riverbanks and stretch far into the surrounding streets. The main draw is of course eating seafood grilled on wooden boats moored around the famous central bridge, serving an appetizing array of huge prawns, squid and shellfish. From noon until late in the evening, the smell is simply irresistible and customers flock to each side of the river all day long
Khlong Lat Mayom Floating Market
Located no more than twenty kilometres from town, Khlong Lat Mayom is nothing like the huge touristy Damnoen Saduak or the crowded Amphawa and has retained the charm and authenticity of a local market.
[ Bangkok Overview & Accommodation ]
RezEasy PMS
RezEasy cloud-based PMS offers real-time access from any desktop computer or tablet anytime, anywhere. Handles bookings, reservation updates, folios, housekeeping tasks, POS, reporting, channel management, online reservations, free booking links and more.
The Beach Restaurant
Our restaurant is located at the north end of Bang Saray beach within a few metres of the sea. You can enjoy beautiful sunsets overlooking the Gulf of Thailand with a view of Jomtien beach and Pattaya in the distance.